Top 10 LED Linear Lights Manufacturers in UAE
So:
If you are here, you have heard about the perks of LED Linear lights.
But:
Finding the right LED manufacturers is not always easy. The last thing you want is to spend money on LED products that malfunction prematurely or underperform.
Right?
If so, here is a summary of the best LED linear lights manufacturers you can find in the UAE.
Generally, these companies will provide you with high-quality LED Lights coupled with exemplary customer service.
Here's what you need to know: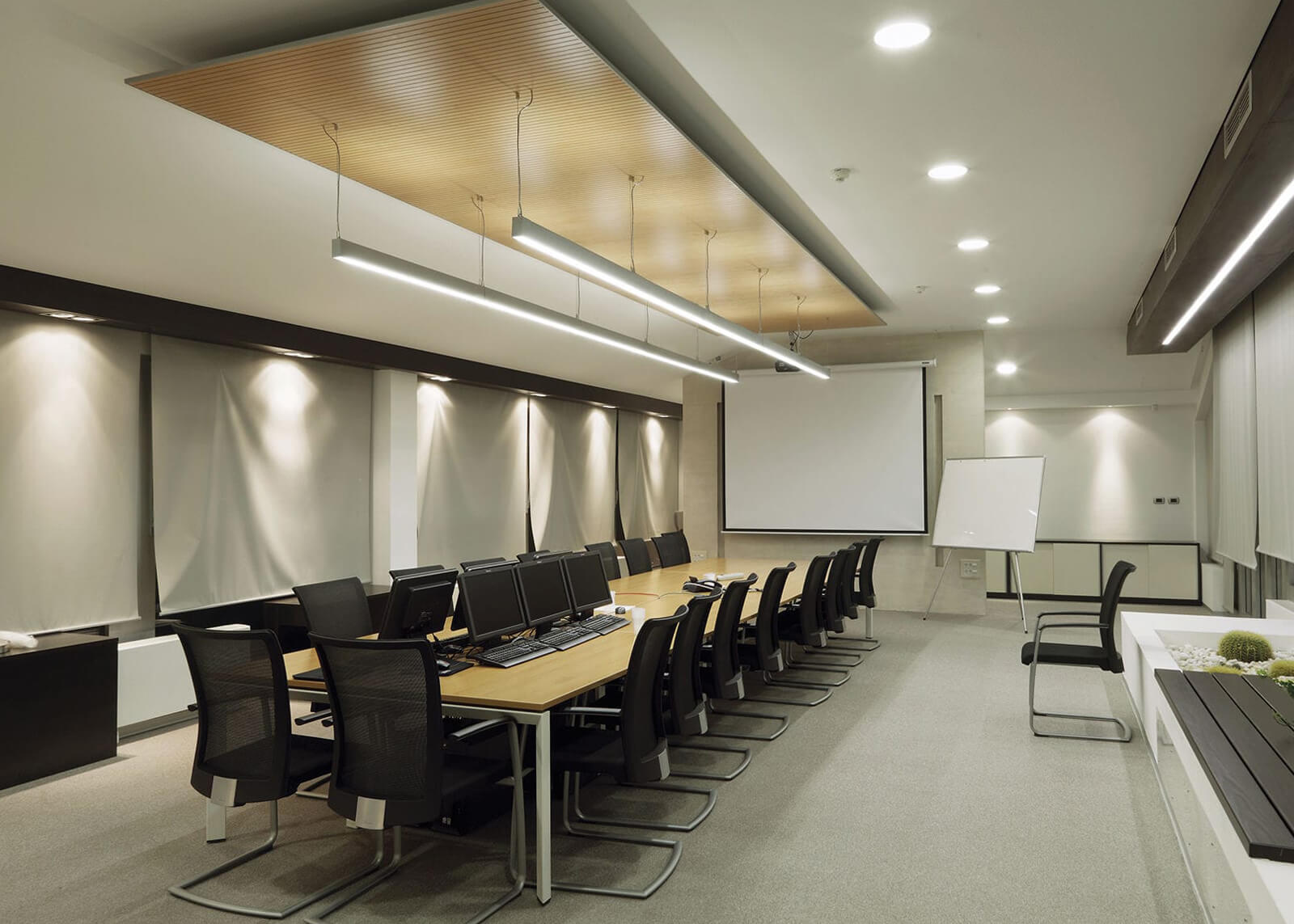 Source: https://sasint.ae/
Location: UAE
Year Founded: 1968
Company Type: Manufacturer
Key Products: LED Linear Lights
SAS International is a British company based in the UAE and was founded in 1968. The company manufactures interior design products. These products include integrated lights and acoustic ceilings. Remarkably, SAS International is one of the biggest employers with over 14000 employees. These workers are spread in over 50 countries worldwide.
The lighting solutions offered combine light integration in metal and wood ceilings. Also, it has a range of linear lights for commercial lighting needs. This company is accredited by various environmental organizations. Its products are high quality and environmentally friendly.
Additionally, SAS is passionate about realizing every customer's vision. The design team pushes the boundaries of LED technology. By ensuring convectional challenges have viable solutions.  SAS strives to uphold today's high lighting standards by producing high-end goods. 

Source: https://streetscape.ae/
Location: UAE
Year Founded: 1998
Company Type: Manufacturer
Key Products:  LED Linear Lights
Streetscape has been around for more than two decades. And the company's vision has always been to solve lighting problems in urban areas. And that's why this company provides LED linear lighting products suitable for urban spaces. Moreover, it offers street lighting solutions, urban landscaping designs, and entire street upgrades. 
Other Streetscape products include street lights, bridge illumination, and external lights for architectural projects. The company helps fix logistical lighting problems with new forms of versatility and standard. That's why it offers lighting solutions that have both quality and style.
Also, Streetscape has project managers. These managers coordinate the execution of a project; from design to the final product.  This company also has a team of experts who offer support in every step of the project.
Location: China
Year Founded: 2010
Company Type: Manufacturer
Key Products: LED Linear Lights
ShineLong was founded in 2010 and is located in Shenzhen, China. Now, despite not being a UAE-based manufacturer, ShineLong offers great incentives and lighting solutions. For starters, the company boasts a robust production line capable of minting out 2000 pieces of unique lighting solutions each day. Therefore, regardless of how big your project is, this company can handle it.
Note that ShineLong produces LED linear lights for more than 300 international brands. It manufactures its products using environmentally-friendly and durable raw materials. Moreover, its products are available for all kinds of applications; whether it's for residential, industrial, or commercial use. And even better, buyers get the option to customize their orders for a more personalized solution. 
Generally, ShineLong is your best bet because of its expertise in the industry, competence, innovation, reliability, and ability to handle orders fast and meticulously. They'll always ensure that you are satisfied with the solution. Furthermore, the company's in-house team vets all functionality and quality aspects. Therefore, you get the best remedies for your lighting problems.

Source: https://arrcocommercial.ae/
Location: UAE
Year Founded: 2011
Company Type: Manufacturer
Key Products: LED Linear Lights
Arrco Lighting offers a broad, contemporary solution to modern-day lighting problems. This company was founded in Dubai in 2011. But, since then, it has expanded its reach to serve customers in Central Asia, the Middle East, North Africa, and Central Africa. Its products always undergo a safety assurance check that complies with most international standards.
This company's mission is to offer buyers high-quality and environmentally friendly products. In fact, it has a team of engineers who test products for quality assurance. More so, Arrco lighting offers different solutions for different needs. It has a wide range of lighting fixtures to choose from.
Additionally, it offers exclusive and personalized LED lighting designs. Other Arrco products include decorative, interior, and exterior lights. And even better, these solutions are available for residential, commercial, industrial, and roadway lighting.
Emirates Specialities Company

Source: https://www.esco.ae/
Location: UAE
Year Founded: 1967
Company Type: Manufacturer
Key Products: LED Linear Lights
Emirates Specialities is a company with over 50 years of industry experience. It started off as a Specialties Company. Back then, its purpose was to import and distribute building materials. Later on, in 1983, it got restructured. That was when the company rebranded to become Emirates Specialities Company. Now, it is owned by UAE nationals and operates under the regulations of Dubai, Abu Dhabi, and Sharjah.
This company's lighting products are safe for use and eco-friendly. Other than that, its LEDs are also energy-efficient, reliable, and affordable. It makes products that are suitable for all types of development projects. These products are applicable in the residential, commercial, industrial, and transportation markets. 
Emirates Specialities Company works with construction companies, architects, and engineers. It does so to provide high-quality and relevant lighting/construction solutions. Most importantly, it offers efficient customer care services. Not forgetting, an option of customized LED solutions.

Source: https://lumo.ae/
Location: UAE
Year Founded: 2010
Company Type: Manufacturer
Key Products: LED linear lights
LUMO FZE started in 2010, its name translating to "Esperanto" which means Light. In 2016, it became part of LUMO SZE industrial. This company is now a manufacturer, distributor, and installer of LED lighting solutions. It is famous for its elegant collection of landscape lights. 
LUMO focuses on the manufacture of lighting solutions. It also deals with the customization of lighting solutions to suit customer needs. This company manufactures a wide range of more than 500 lighting fixtures. These solutions vary from contemporary to modern to classic. 
LUMO lights are mainly designed for interior spaces like offices. However, these solutions are also convenient for exterior places like landscapes. This company makes its products in the UAE. It, therefore, matches the country's standards and qualification tests.

Source: https://lohuislighting.ae/
Location: UAE
Year Founded: 1970
Company Type: Supplier
Key Products: LED Linear Lights
LOHUIS is a one-stop supplier of quality LED lighting solutions. It has been active in the industry since 1970. This company supplies LED lights for small, medium, and large projects. Its projects are convenient for both indoor and outdoor use. Furthermore, LOHUIS specializes in LED lighting solutions for greenhouses and horticulture. 
Its mission is to create a better world through quality illumination. How? By providing sustainable and innovative lighting solutions. This company's products are of high quality, yet quite affordable. Moreover, each product is certified, meaning they are safe for you and the environment.
LOHUIS offers an impressively wide range of products containing 25,000 unique lighting solutions. These products include downlights, spotlights, linear lights, street lights, and many more. What's more, LOHUIS strives to build and maintain a close and long-term relationship with its customers. One way of doing so is by offering customization services for projects with specific needs.

Source: http://hslights.ae/
Location: UAE
Year Founded: 2009
Company Type: Manufacturer
Key Products: LED Linear Lights
HS Lights is a company that strives to offer sustainable lighting solutions; that save energy and protect the environment. It researches, manufactures, and sells efficient LED lighting solutions. This company began after a rise in retrofit activities in the UAE. Impressively, it's the first LED manufacturer with a fully equipped factory in UAE.
HS facilities enable it to manufacture products in-house. This company's product range offers energy efficiency, sustainability, and energy cost saving. This range has both indoor and outdoor solutions. It provides products that are ideal for commercial, industrial, and residential use. 
What's more, HS products are very versatile and unique in their own way. These products include LED spotlights, panel lights, downlights, tube lights, and street lights. HS Light's purpose is to create a good lighting environment and it has been able to achieve that so far.

Source: https://myga.ae/
Location: UAE
Year Founded: 2010
Company Type: Manufacturer
Key Products: LED Linear Lights
Rafeed Lighting began in 2010 with a mission to offer modern, cost-efficient, and better lighting solutions. It was established to address the need for quality lights. This company helps both big and small companies find the perfect solutions for their projects. In fact, it has successfully completed more than 250 projects.
To date, Rafeed has produced more than 500 unique lighting products. More so, this company keeps up with new technologies through extensive research and constant innovation. It ensures its products are in line with current trends to attract customers.
Note that Rafeed has five successful brands of products. Namely the premium series, E series, electric series, LED Screen series, and smart series. Its LED lighting products are part of the E-series. They include panel lights, downlights, street lights, and tri-proof lights.

Source: https://www.explosionproof.ae/
Location: UAE
Year Founded: ~2010
Company Type: Manufacturer
Key Products: LED Linear Lights
ExplosionProof.ae is a leader in providing LED light solutions for hazardous environments. If you've been looking for lighting fixtures for an area where fire or explosion hazards may exist, this is your best option. This company makes solutions that can work in the presence of dust and flammable chemicals.
Their products are mainly made for industrial purposes. On the plus side, these lightning products are high-performing, durable, and of high quality. They include floodlights, linear lights, high bays, and portable lights. Furthermore, these products have relevant certifications for quality and safety. 
More so, ExplosionProof.ae has a comprehensive rating system to ensure a safe working environment. It also has an experienced team that understands how these products work. And will, gladly, help customers to understand how these products work and which ones are ideal for their project.
Now:
Everything I have mentioned about these companies is true and accurate. Therefore, you can buy your LED products from them without hesitation.
However:
If it's still a hassle trying to vet all ten of them to find the best one for you, Contact Us Today. At ShineLong, we value your business and project.
And that's why we always put our clients above everything else. Plus, our products and services are tailored to give you maximum convenience without costing you extra.
What are you waiting for? Talk to us today!
If you're looking for more LED linear lights manufacturers, check out the following articles:
Thinking about the environment and you!