Grocery stores, or supermarkets, offer a diversity of products to be purchased. Typical items for sale include fruits and vegetables, meat, fish and poultry, baked goods, dairy products such as milk and cheese; along housewares such as dishware.
The primary purpose of store lighting is to create a welcoming environment for shoppers. Light creates a sense of space and brightness and removes shadows that may make the store seem less inviting.
ShineLong Lighting is the best way to illuminate your store. It offers the best-LED store lighting for your retail establishment. With their energy-efficient, long-lasting, and specifically designed LED solutions you will be able to light up your store with highly efficient lighting.
We offer LED lights for a variety of industries, including grocery stores, big-box retailers, convenience stores, and more. All of the lights are bright and have no glare or flickering. They also have a longer life span and can be installed very quickly with minimal effort.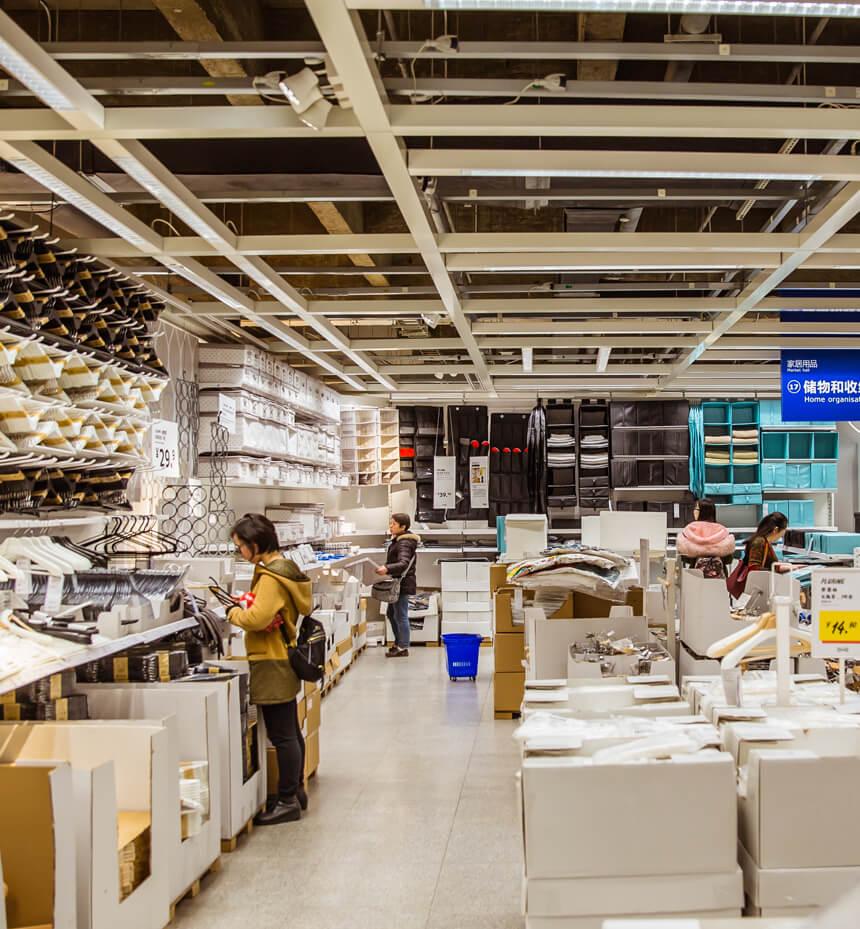 Features of Parkade IP66 LED Tri-proof Light for Store Lighting
Parkade IP66 LED Tri-proof Light for Store Lighting has the following features;
IP66 Waterproof, IK10 Protection, 94V0 materials
Unique design, Mitsubishi PC material with Aluminum PCB & Housing
SMD2835 LED Light Source with Global Patent Protection
ENEC-Certified Flicker Free Driver, THD<15%
High Efficacy, 130~160 lumens per watt (+/-5%)
L80B10 life span of 50,000 Hours (@ Ta = 25°C)
No Dark Areas, No Sulfur Seal, No Yellowing, No Cracking
Power Options: Sides, Back, Cable Mount, or Plug & Play
Full Solutions from Custom Store Lighting Manufacturers
There's never been a better time to invest in your parking garage lighting needs than now. Instead of spending on expensive fixtures, installation costs are minimal. And there's no need for battery replacements due to our highly efficient LED lights (which last 15 times longer than traditional incandescent lights). The entire garage is lit with a mix of modern LED fixtures and traditional incandescent LED lights. All custom-made to accommodate the schedule, range of light levels, and individual preferences that each customer will have!
Quality Parkade IP66 LED Tri-proof Light for Store Lighting
ShineLong is one of the leading LED IP66 tri-proof light manufacturers in China. The energy-saving and environmental protection in this type of LED light are well known. We offer a competitive price, high quality, and good after-sales service.
Parkade IP66 LED Tri-proof Light is a high-quality product due to IP66 waterproof, IK10 protection, unique design, and high efficacy of 130~160 lumens per watt (+/-5%). It has no dark areas, sulfur seal, yellowing, and cracking.
These features and 5 years warranty clearly show that Parkade IP66 LED Tri-proof Light is a very high-quality product available in the market.
Still not finding what you're looking for?
Contact our consultants for more available products.
Best in Store Lighting Factory
ShineLong is a professional LED store lighting factory; we have been in this field for more than 10 years. Our factory is the best store lighting factory in China, offering the best and most affordable store lighting solutions. We have a rigorous research and development plan that assures superior quality products.
We have a well-crafted design and manufacturing process that guarantees high-quality output. And the best part is that our products have numerous safety and quality certifications from renowned global regulatory authorities including UL, DLC, TUV-GS, SAA, UKCA, ERP, CE, and RoHs.
ShineLong's Parkade IP66 LED Tri-proof Light is composed of 94V0 materials and has Mitsubishi PC material with Aluminum PCB & Housing. It is a waterproof product and has 5 years warranty.
ShineLong also specializes in customizing your store to perfectly match your needs. Contact us today for any further details!
Customer-based Store Lighting Design
ShineLong offers the best customer-based store lighting design service to help you save money. Our team is experienced in retail lighting design, so we understand all the necessary factors to create the best store atmosphere for your customers.
It is a leading provider of energy-saving lighting for retail stores, restaurants, and supermarkets. Our customer-based store lighting design helps to make your store a cozy and inviting environment for your customers. You can customize your store lighting according to your needs and budget. Contact us today!
Why Choose ShineLong's Parkade IP66 LED Tri-proof Light for Store Lighting?
Are you looking to fulfill your store lighting need with the best-LED lights? ShineLong is offering the customizable Parkade IP66 LED Tri-proof Light. It also has IP 66 protection, meaning it's safe from dust and water. It provides not only a long life but also a bright and energy-saving solution that can be used in any environment.
It also has certifications from renowned regulatory authorities which make it the most trusted light worldwide. So, if you are looking for the best place to buy lights for your store then ShineLong is the single option for the best quality and long-lasting lights.
Store Lighting Suppliers Since 2011
ShineLong Lighting is one of the leading suppliers of high-quality lighting in China. Our company has 20,000 square meters area, with 2 buildings. We have 20 sets of Production Line with 10 SMT machines, 4 automatic aging machines for LED panels, and a quality control lab in-house. We offer a wide range of superior quality LED lights products and great service to residents and commercial customers.
Our company has a wide variety of high-quality, durable, and affordable products that will appeal to any type of customer. We have a wide range of LED lights including indoor and outdoor lighting, food industry lighting and store lighting solutions, and more.
ShineLong is the best wholesale store lighting supplier in China, we specialize in LED light fixtures, LED tube lights, LED panel lights, and other related products. You can purchase ShineLong products with confidence that they are of the highest quality.
ShineLong was founded by a group of professional industry experts and has been committed to providing high-quality and best service to our customers. We offer a one-stop-shop for your wholesale needs. Our ultimate goal is to assist retailers toward an easy way to buy LED lighting at the lowest prices possible.
Buy Store Lighting in Bulk
If you're looking to buy store lighting in bulk, then ShineLong is the place for you. We offer a wide variety of LED lights to meet your needs at affordable prices. Buy LED store & mall lighting in bulk for a wide variety of applications.
Find high-quality, low-priced bulk store lighting for your retail store at ShineLong. We are serving retailers nationwide with over 10 years of experience. Buy today high-quality Parkade IP66 LED Tri-proof Lights for your store.
Thinking about the environment and you!