Industrial Lighting At ShineLong
At ShineLong, we take pride in being one of the best-LED manufacturers in the market. For us, quality and value for money to our clients matter.
Everything You Need to Know About LED Industrial Lighting
Look:
Lighting plays a critical role in almost every industry; from mining, manufacturing, packaging, marine shipping, to sports.
True?
Now, as you can imagine, most of these industrial facilities consume huge amounts of energy to stay well-lit; resulting in high and sometimes unnecessary costs.
This begs the question:
Are there any workarounds for this issue? Yes – Use Our LED Industrial Lighting Fixtures!
Now:
With LEDs, you get to enjoy perks beyond lighting.
Our fixtures not only ensure proper lighting of your facilities but also enhance output and heighten safety in the workplace.
For instance:
In a well-lit facility, workers are less likely to suffer injuries or accidents like bumping into equipment or striding over sharp tools.
So:
How much do you know about LED industrial lighting fixtures? And how will you benefit from using these lights?
Well:
This post tells you everything you need to know about them.
Let's dive in.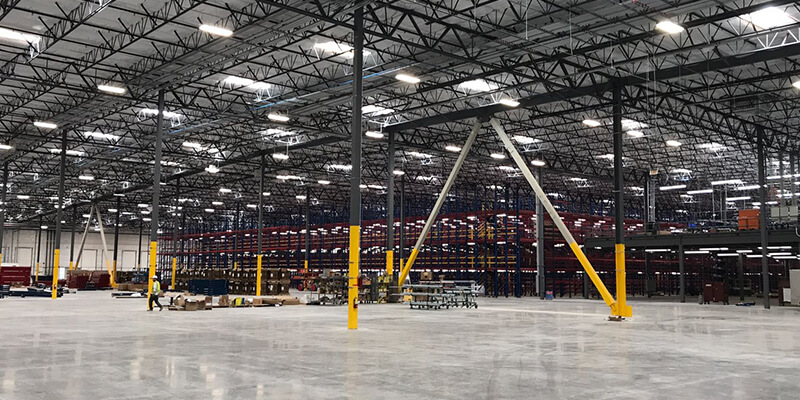 Part 1: Brief Overview of the Different Types of Industrial Lighting
It's important to note:
Most industrial LED light fixtures are designed for heavy-duty performance and can operate in diverse and extreme conditions; with regards to temperature, humidity, and overall climate.
However, not all commercial environments are the same.
And so:
There are different kinds of fixtures designed to meet diverse lighting demands for different types of spaces.
Get it?
Anyway, here are some of the best, main types of industrial lighting you are likely to find on the market today:
When it comes to high-quality and bright outdoor lighting, it's hard not to talk about LED floodlights.
Why?
Because these fixtures are powerful and designed to endure all kinds of weather and environments.
Anyway:
As the name suggests, floodlights will – quite literally – flood an area with light. They are used for both indoor and outdoor lighting; given that they are illuminating a large space.
What's more?
LED floodlights emit more lumens per watt; thus, providing high-intensity beams while consuming less energy.
A UFO High Bay Light is a luminaire system with a UFO (alien ship) disc shape and an integral aluminum housing.
This design allows the fixture to achieve optimal light distribution over a large area without the need for bulky reflectors.
Cool, right?
Also, note that since they are high bay fixtures, UFOs are usually installed on high ceilings. Their mounting/installation technique will differ depending on your needs and preferences.
Now:
The best part about installing these lights on high ceilings is that they illuminate a large area easily; thus, reducing the number of lights needed to achieve optimal lighting.
Just like its UFO counterparts, an LED High Bay light is designed to illuminate spaces with high ceilings – over 20 feet.
One unique quality to note about these fixtures is their design.
Generally:
Highbay lights have aluminum reflectors that ensure the light flows evenly downward or prismatic reflectors that produce a diffused kind of light.
This makes them ideal for lighting elevated objects.
Moreover:
With Highbay LEDs, you have the option to choose your most preferred reflector angle. This gives you flexibility and allows you to shine the light where you need it, with ease.
Proper tunnel lighting is important to ensure road safety by illuminating everything inside the underpass and enhancing visibility.
Thus, LED tunnel lights provide linear illumination with high color rendering accuracy for better visual induction.
Moreover, these lights are water and dust-proof; to ensure they stay on for longer.
With that in mind:
Here are a few good answers to some of the questions you might have about industrial LED lighting.
Part 2: How to Find Top Industrial LED Lighting Suppliers in 2021
It's a fact:
LED lights are cost-effective, energy-efficient, and with longer lifespans compared to more traditional units.
Thus, installing LED lamps in your facilities makes environmental and economic sense; therefore, deciding to switch should be easy, right?
Well, not quite.
With a multitude of manufacturers available, choosing the best one out of many can be quite hectic. However, here are some tips to help you with this:
This is the most important factor to consider when evaluating and shortlisting potential suppliers/manufacturers.
So, you'll want to start by analyzing their in-house setup in terms of:
Technologies used.
Aging equipment.
Quality testing procedures
Packaging and branding methods
Assembly line automation and so on.
Remember:
The level of production equipment and technologies used by a supplier ultimately determines their production capacity and the quality of their products.
2.2 Their Production Process
Question:
Does the potential supplier have an auditable process of product research and development? How about a reliable and documented process of manufacturing, testing, and troubleshooting?
Understand this:
The production process always plays a pivotal role in manufacturing and directly affects the end products.
Therefore, getting a supplier with a properly documented, tested, efficient, and proven process of production will give you the confidence you need to make an informed decision.
2.3 Reputation and Experience
While sourcing for an industrial LED lighting supplier, you should always make sure they have a long-standing and enviable reputation for supplying quality lighting products.
Basically:
The supplier should also have safety certifications; these ensure the products have been inspected and conform to high standards of safety, performance, and use.
What's more?
Your manufacturer should also have enough experience in the LED industry. That way you'll have access to consistent and high-quality services.
And the manufacturer will be in a position to swiftly deal with any issues and inconveniences that may arise.
So, what warranty coverage should your potential supplier offer?
Well:
Most buyers only consider their warranty when the products need repair or replacement – which ends up being costlier than expected.
Now, ensuring the warranty agreement is favorable to you and your needs can dramatically reduce the costs and stresses of repairing/replacing the fixtures; if they fail.
2.5 Sourcing and Materials Used
In a bid to reduce costs and expand profit margins, some manufacturers might source and use low-quality materials in production.
In turn, these inferior materials reduce the durability and lifespan of the final product.
What's more?
Doing so also compromises the safety of your light fixtures; making them unsuitable and dangerous to use.
You don't want that, do you?
So, ensure you check how the supplier sources components, from whom, and their overall quality.
2.6 Responsiveness and Turn-Around Time
Imagine this:
You get an awesome supplier who is transparent, reliable, and offers a lengthy warranty. However, when you need support and after-sale services, they take a lifetime to respond – or they never do.
Frustrating, right?
Well, it always is.
So, while evaluating potential suppliers, always choose those that offer responsive communications and quick turnaround times.
Probably, you won't need these services, but it's usually relaxing to know you can rely on your manufacturer in case the need arises.
Moving on…
Part 3: Applications of LED Industrial Lighting Fixtures
Note:
Industrial environments often encompass a wide variety of operations which makes it quite necessary to install proper lighting.
For example:
Numerous aspects – such as weather, atmosphere, vibrations, water, temperature, and maintenance – need to be considered; because they often impact the quality and level of light reaching the surface.
And:
Not forgetting the fact that these aspects can have a positive or negative effect on your fixture's durability and health.
Now:
Before we get into the nitty-gritty, let's look at some of the main LED industrial lighting fixtures and their applications.
Arguably:
Floodlights are the most common industrial lighting fixtures in use today. And that because they are very versatile and can be used in almost any setting.
The best part is that floodlights can easily withstand the harshness of outdoor weather.
More so:
These fixtures often produce a broad beam of powerful light making them perfect for applications in wide, open spaces like:
Construction sites and manufacturing plants.
As outdoor security lights on commercial and residential buildings.
Marine Ports and Container Depots.
Parking lot lights.
Sports fields.
Parks and hotel gardens/grounds just to mention a few.
For indoor lighting in large indoor spaces, UFO High Bay Lights are usually the best options; owing to their brightness, impressive CRI, even light distribution, and multiple mounting options.
You can use these fixtures in:
Large, multi-car garages.
Warehouses and storage facilities.
Dry and wet food processing spaces.
Indoor swimming pool areas.
Supermarkets and malls.
Massive institutional and community halls.
Just to mention a few…
Now:
Much like the UFOs, these highbay fixtures are meant for indoor use in large spaces.
The only difference between the two is that, unlike UFOs, these lights offer you options to choose from in terms of reflector angles.
Meaning?
You can get wider and narrower light beams when using LED Highbay Lights.
And that makes these fixtures ideal for:
Warehousing.
Dry food processing plants.
Exhibitions.
Wholesale stores.
Libraries and so on.
Lastly:
Just as the name suggests, LED tunnel lights are usually used in…
Tunnels.
Caves.
Mines.
Underground passages.
Shafts and so on.
And because of these application settings, Tunnel fixtures are usually ceiling-mounted with an adjustable arm; to allow the installer to modify the lighting angle for optimal performance and illumination.
Now:
Let's look at a few lighting problems that LED industrial fixtures help you to solve.
Part 4: Which Industrial Lighting Solutions Do You Get From Using Our Fixtures?
I know it's only natural to ask:
How do industrial LED lights help to solve my lighting problems?
After all, you want to invest your money into things that add value and improve the productivity of your business or workspace.
Right?
If so, here are a few reasons why industrial LEDs are the best for you:
They Improve Safety. Thanks to their high CRIs and bright lights, industrial fixtures help to boost visibility; allowing you and your staff to see everything clearly at night and with ease.
Enhance Productivity. We can all agree on this one. A well-lit workspace is more fun and exciting to work in; compared to a dull/dimly-lit space.
Offer Cost-Effective Lighting. Let's face it. Industrial-grade fixtures are often designed for heavy-duty lighting; hence, use up a lot of power. However, with LEDs, you don't have to worry about that thanks to their energy efficiency and durability.
Low-Maintenance Lighting. Another thing about using industrial LED lights is that you won't have to spend a lot of time and resources maintaining (or replacing) them. It could be years or even decades before the need for change arises.
Offer Quality Lighting. Unlike standard fixtures, industrial LEDs are designed to be better, brighter, and ideal for manufacturing, processing, and storage plants.
Anyway:
Instead of going through each and every solution out there, let's take a look at WHY you should buy these fixtures, next.
Part 5: Why Do You Need LED Industrial Lighting?
It's a fact:
Not all people know what types of lights work best in their industrial space. To some, a light fixture is just that – a light fixture.
However, this mentality often leads to wrong choices, poor lighting systems, and major losses.
You don't want that, do you?
If so, learning about why you need Industrial LED lighting is imperative.
Now:
To know WHY, you must first examine your space with one question in mind; does it need an industrial-grade lighting system?
The checklist below will help you answer this:
5.1 Is Your Space Used For Industrial/Commercial Work?
This is quite straightforward.
If you operate an industrial space, then it's only logical to use strong, efficient, and bright industrial-grade lights.
Right?
Therefore, whether you're a manufacturer, food processing plant, or even a warehouse owner, these lights are your best option.
5.2 Are You Looking To Illuminate A Large Space Or Area?
Now:
The biggest design perk of LED industrial lighting is that they are meant to be used in large spaces.
And so, if you operate under a large space, these are the best fixtures for the job.
Why?
Because they are bright, efficient, durable, and have a high CRI; to ensure that your employees see what they're doing with ease and accuracy.
5.3 Do Your Workspace Activities Require Bright, Quality Lighting?
Get this:
There are special workspaces that require ample illumination for optimal performance and safety; for example, food processing factories and heavy machinery plants.
In such places, an ordinary light fixture might not be enough.
Yes, standard lights do offer illumination; but it won't be as good or as much as you'd get from an industrial LED light.
And:
That's where our fixtures come in.
The brightness and high color rendering accuracy of our industrial LEDs helps to:
Provide a comfortable working space.
Improve visibility and clarity.
Reduce safety risks and accidents.
Optimize and speed up production flow.
5.4 Are The Fixtures Meant To Be Installed Further Away From Your Work Area?
Note:
In most industrial and commercial settings with high ceilings, light fixtures are often placed far away from the working area.
This ensures that the staff members can move around freely with minimal impediments.
However:
The higher a fixture is, the weaker its light intensity will be.
Therefore, in such a setting – e.g. warehouses and factory halls – you need fixtures that yield more light. And, industrial LEDs are a good example and the best ones for this job.
Anyway:
Once you answer these four questions, you'll have an easy time determining whether or not your intended space needs these types of lights.  
And if so:
Here are a few awesome tips to help you find the best ones for your projects.
Part 6: How to Find the Best LED Industrial Lighting for Your Project?
Now:
Finding the right fixtures for your project is always a wise thing to do.
After all, you'll get the best service only from fixtures that are designed to function in your intended space.
Get it?
Anyway:
This can be tricky; especially, if you are a first-timer. So, to ensure you have an easy time, here are three simple things you need to do…
Yes.
The first and most important thing to do is usually to define your project. 
Simply put:
Before you go shopping for LEDs, you must know what you are looking for. And you'll only get these bits of info based on the lighting needs and preferences of your project.
Right?
Now, you might be wondering; why is this important? Or can't I just use the best industrial LED lights I come across? 
Well:
Note that most of these LED fixtures are often designed to cater to the needs of different work environments.
For example:
LED floodlights work great outside; offering bright and broad reach illumination. They are designed to sustain the harshness of outdoor weather changes with ease.
However, an LED highbay fixture cannot be used for outdoor lighting. And that's because its IP rating indicates that it's designed for indoor use only; i.e. in a space with low humidity and dust.
So?
That's why project definition is vital to finding ideal lighting fixtures. It helps you to identify:
What types of fixtures and how many will be enough for your space?
How bright each one should be?
Where the fixtures should be placed for optimal lighting?
Installation options and wiring framework.
And how much power you'll need to satisfy the energy demands of your new system.
Get it?
6.2 Find the Right LED Lights
Now:
With all the information gathered above, you'll have a detailed description of the kind of light fixture(s) you need.
But:
Does this mean that you are ready to place your order?
Not quite!
To ensure you get the best of the best, you need to search for different options, make comparisons, and narrow down your list.
Here:
You want to look at a few important aspects of the LED industrial lights you've found; including:
Their design.
Durability.
Efficiency.
Eco-friendliness.
Affordability.
Features and functions.
Convenience.
Manufacturer delivery speeds.
After-sale services.
The company's reputation.
As well as, what other clients have to say about the brand.
This way you'll be able to get a rough idea of who to buy your industrial lights from and why.
Lastly:
6.2 Find the Right LED Lights
Now:
With all the information gathered above, you'll have a detailed description of the kind of light fixture(s) you need.
But:
Does this mean that you are ready to place your order?
Not quite!
To ensure you get the best of the best, you need to search for different options, make comparisons, and narrow down your list.
Here:
You want to look at a few important aspects of the LED industrial lights you've found; including:
Their design.
Durability.
Efficiency.
Eco-friendliness.
Affordability.
Features and functions.
Convenience.
Manufacturer delivery speeds.
After-sale services.
The company's reputation.
As well as, what other clients have to say about the brand.
This way you'll be able to get a rough idea of who to buy your industrial lights from and why.
Lastly:
6.3 Choose the Best LED Lights Type and Shape
Obviously:
After the comparison, you'll be in a position to choose the best fixture(s) for your project.
But:
First, you should contact the manufacturer for more information and learn about all your options.
Even better:
ShineLong allows you to customize your fixtures to suit the most ideal type and shape for your space.
Cool, right?
Here, you want to ensure that the shape and type of fixture are right and will blend in well with your plans.
Moving on…
Part 7: What Makes ShineLong a Leading Industrial LED Lighting Manufacturer?
Note:
A true manufacturer's reputation is always determined by the quality of products they produce. And that's why, at ShineLong, we are always focused on product quality and customer satisfaction.
Generally:
Our goals are to develop the best, most efficient industrial LED lights in the market and to give all our clients the best service possible.
We achieve these by:
7.1 Using High-Quality Materials
Yes!
We use high-quality components to ensure that our fixtures perform better, last longer, and are fully protected from damage.
And that, in turn, guarantees you great value for your money.
Right?
7.2 Making Timely Deliveries on All Orders
We also understand that "time is money." 
Hence, we always work fast to ensure that we design, produce, ship, and deliver your orders in record time.
And the best part is:
We do this without compromising on the quality, performance, and functionality of the fixture.
7.3 ShineLong Has Over a Decade in LED Light Manufacturing Experience
One of the biggest benefits of having years of experience is that we are always innovating and inventing better ways of streamlining our production line.
And that's beneficial to you in many ways including:
Having access to our many years of experience in this industry.
Being able to lower production costs and time for you.
Getting your orders processed and delivered in a professional and orderly fashion.
Plus, our interactions with different clients and issues have allowed us to properly understand common lighting needs; hence, we're in a better position to get what you want.
7.4 We Are a Friendly Family
At ShineLong, we understand that fulfilling an order is only a part of the process; thus, making sure that you are happy and satisfied is the only way to ensure a complete buying experience.
That's why our support team is always cordial, friendly, and welcoming; will listen keenly to your issues; and go above and beyond to give you the best solutions/answers to your lighting needs.
It doesn't get any better than that.
7.5 Competitive Rates and Awesome Offers for Bulk Orders
Now:
If you are looking for the best deal, we've got you covered.
When you place bulk orders, we give you more bargaining power to ensure you get the most lucrative offer on the market.
After all, with us, you don't have to break your bank account to get quality lights.
Shopping for LED Industrial Lighting is never that hard. All you need is the right bits of information and a good partner to help you with your project.
At ShineLong, we believe that we are the right company for the job.
Check out our existing commercial and industrial LED fixtures to see if you can find something suitable for your project.
If not, don't hesitate to Contact Us for customized LED lights.
We'll help you come up with something designed to fit into your lighting project flawlessly.  
Please close the table of content, and then send us your request.
Thinking about the environment and you!