Story of ranch
Good lighting is one of the secrets to a safe, serene home. You do not want to go to check on your chicken in their shed only to stumble on a protruding stubborn nail. Darkness is usually associated with evils, no wonder many thuggery incidences occur at night or in dark places.  Although lighting all areas in your home or public spaces is important, it doesn't make sense for you to break the bank in the name of offsetting huge energy bills; energy efficiency is vital. It is paramount to install a high-end lighting system, in terms of quality of light, that doesn't consume a lot of energy.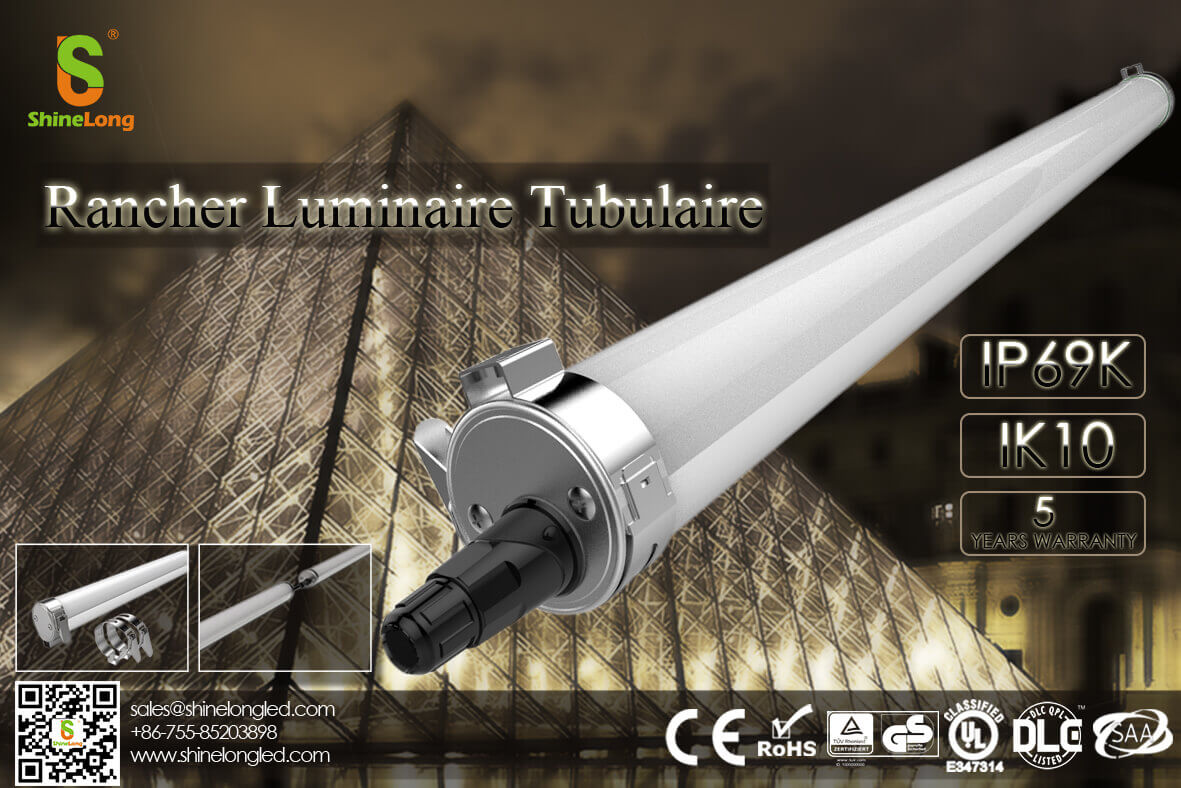 ShineLong Company appreciates the importance of proper lighting in every corner of your home and public areas and at the same time minds your pocket. After realizing how people were paying high energy bills and buying lighting bulbs, the company through its innovative team of experts came up with a wide range of LED lamps for lighting various areas. Rancher Luminaire Tubulaire happens to be one of the high-end lamps that the company has released to the market. The IP69K rated Rancher has been on the market for several years, and the warm reception that it has received from the consumer is very overwhelming. It has never disappointed!
Rancher Luminaire Tubulaire offers cost-efficient and energy-saving LED lighting to areas that are prone to corrosive elements like vapor, dust, and water, for instance, parking, garages, chicken houses, livestock sheds, slaughterhouses as well as food processing plants, among others. The lamp is made of highly durable and waterproof material and many customers are delighted about it,  saying that it takes years before requiring replacement.  Who doesn't like saving a buck, two or even more and getting high-quality service or product at the same time? The performance of  Rancher Luminaire Tubulaire is top-notch, apart from being cost-effective and energy-efficient and this has seen many people replace their traditional power-intensive and inefficient bulbs with the new tube-like LED lamp.
If you think that Rancher doesn't have a taste of design then you are wrong. The stylish cylinder design makes it look extremely awesome even when installed in your bathroom. This LED lighting tube also gives you the flexibility of adjusting it to various angles to produce the precise amount of illumination that you need.
Rancher Luminaire Tubulaire has an extremely flexible wiring, allowing you to connect it from the side, plug directly to the existing fluorescent ballast without rewiring or the self-mounting of the cable. This flexibility makes the initial and the subsequent installations of the lamp a breeze. Rancher comes in 0~10 V and also DALI dimming. The lamp's body features a polypropylene, polycarbonate or polyethylene material, making it resistant to corrosion and offer you protection from the harmful ultraviolet light rays.  Upon thorough testing, this lamp has received many prominent certifications including CE, RoHS, TUV, UL, CUL, and DLC. Therefore, you cannot expect anything less than ultimate performance, durability, cost-effectiveness and energy efficiency from the great Rancher.
Do you have an area that you think an electricity lamp can't withstand, thanks to the presence of corrosive elements or water damage? You can always count on Rancher and you shall never regret.