Here's What Industry Insiders Say About Ingress Protection
What is an IP rating and why is it always indicated on LED electronic products?
Well, if you've been buying or you plan to buy lighting electronics, then knowing a little bit about IP ratings will come in handy in one way or another.
This knowledge helps you to find the best products that conform to your specific needs.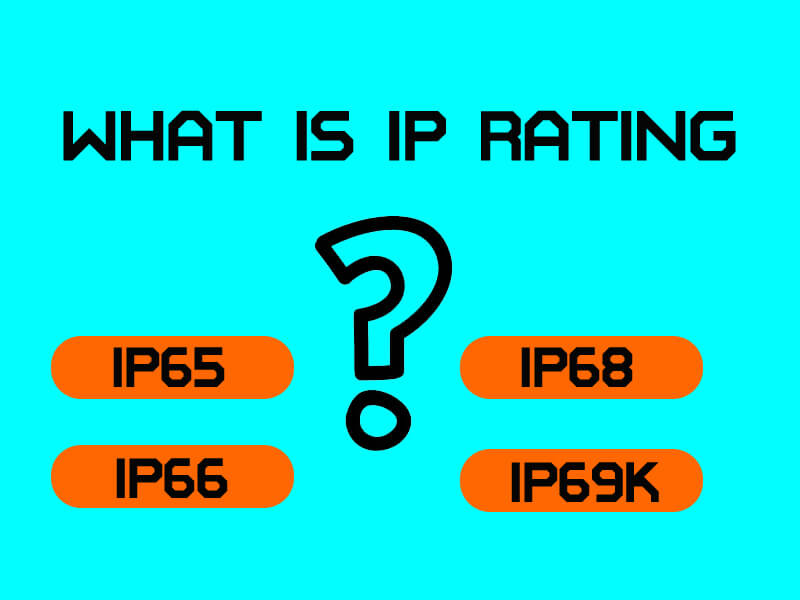 Chapter 1: What is Ingress Protection (IP)?
In the simplest terms, IP is an international standard that denotes the measure of protection that electronic enclosures offer against intrusion from external objects, dust, and water.
This standard was enacted by the International Electrotechnical Communications (IEC) to help in the classification of electrical appliances. These classifications were based on two key factors; protection against intrusion by dust/objects and water penetration.
Normally, an IP rating is denoted in the format – IPXY – with the XY consisting of two distinctive figures.
* The first number (e.g. 1 in IP1Y) shows the appliance's protection against intrusion by foreign bodies like dust, tools, fingers (to avoid getting electrocuted), insects and so on.
* The second fig (e.g. 1 in IPX1) indicates just how much the appliance is protected from water and moisture penetration.

Therefore, a typical IP rating looks like this: IP68.
And you should note that a higher value means more protection.
For example, an appliance with an IP rating of IP68 is more protected from water ingress than an IP61 appliance.
Pretty straightforward, right?
Yes, but how protected are they?
Or better yet, what differentiates an IP68 from an IP61 appliance?


Chapter 2: What Do IP Grade Standards (Numbers) Mean?
As mentioned above, IP ratings are denoted as IPXY where 'X' is the degree of objects and dust protection and 'Y' is the measure of water ingress protection. The X figures run from 0 to 6, with each number representing a level of protection and dust resistance. On the other hand, Y figures run from 0 to 8 with each digit representing a level of water penetration resistance.
Resistance levels increase as the numbers advance from 0 to the highest number in the grade as you shall see below. Here is a brief breakdown of the meanings of each number on an IP rating.
1. Dust or Object Resistance Levels (IPX*) of IP Rating
0 – Means the appliance has no protection against the penetration of dust or object.
1 – These appliances prevent the intrusion of objects above 50mm in diameter/width/height. This protection also helps to prevent people from accidentally coming into contact with the live parts of the electrical appliance; hence mitigating the risks of electrocution. But dust can still get in.
2 – They block intrusion by objects that are larger than 12.5mm in diameter, width or height. Such objects include fingers, large tools, big insects, and so on.
3 – Such appliances prevent intrusion by anything larger than 2.5mm. These items include wires and tools that are more than 2.5mm in size. But still, in terms of dust penetration, these appliances are not fully protected.
4 – An IP4Y appliance blocks intrusion by anything above 1.0mm in diameter or width. This includes tiny insects like mosquitoes, flies, and any other object or insect above 1.0mm.
5 – These appliances offer partial dust protection. And the amount of dust that penetrates their enclosures is too little to affect the normal functioning of the appliance.
6 – This is the strongest dust protection level because it is designed to completely block dust from entering the appliance. Therefore, IP6Y appliances are literally dust and intrusion-proof.

2. Water or Moisture Resistance Levels (IP*Y) of IP Rating
0 – Just like in the dust resistance table above, the 0 here means that the appliance does not have any protection against water or moisture penetration.
1 – These appliances block drip intrusion.
2 – They prevent drip intrusion even when the electrical device is tilted by 15 degrees.
3 – These appliances block penetration of jetted water, rainfall and or water shot directly perpendicular to the appliance or at an angle of less than 50 degrees.
4 – Such appliances prevent water penetration as a result of splashing from all directions.
5 – Prevent water intrusion from large waves or spray holes.
6 – Their design allows them to prevent the penetration of water when they are exposed to it for a specific amount of time or under certain water pressure levels. These appliances can still work flawlessly during the time spent exposed to water.
7 – Are designed to prevent intrusion of water into the electrical parts of the appliance even when it is submerged less than 3ft (1m) deep in water for almost 30 minutes. The appliance will continue to work perfectly as long as the water conditions (time, pressure, and temperature) remain within operational range.
8 – These devices can work normally without being influenced by sinking or submersion. This means that they can still function at peak performance even after being immersed in water for long periods of time. Basically, there's no water intrusion.
Side Note:
9K – This is a rare water ingress protection rating (e.g. IP69K). Appliances with this rating are designed to prevent water penetration from strong, close range, high-temperature water jets.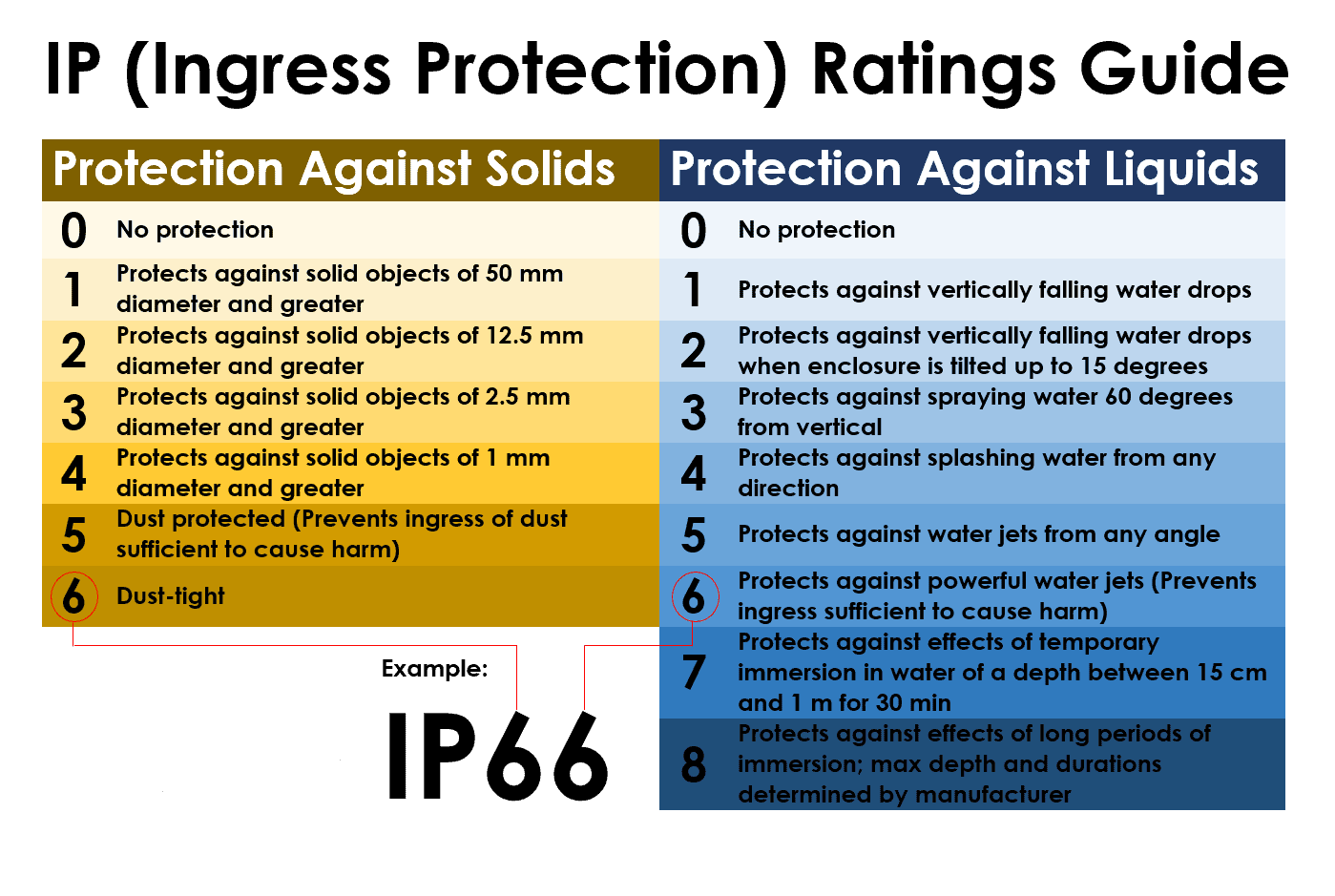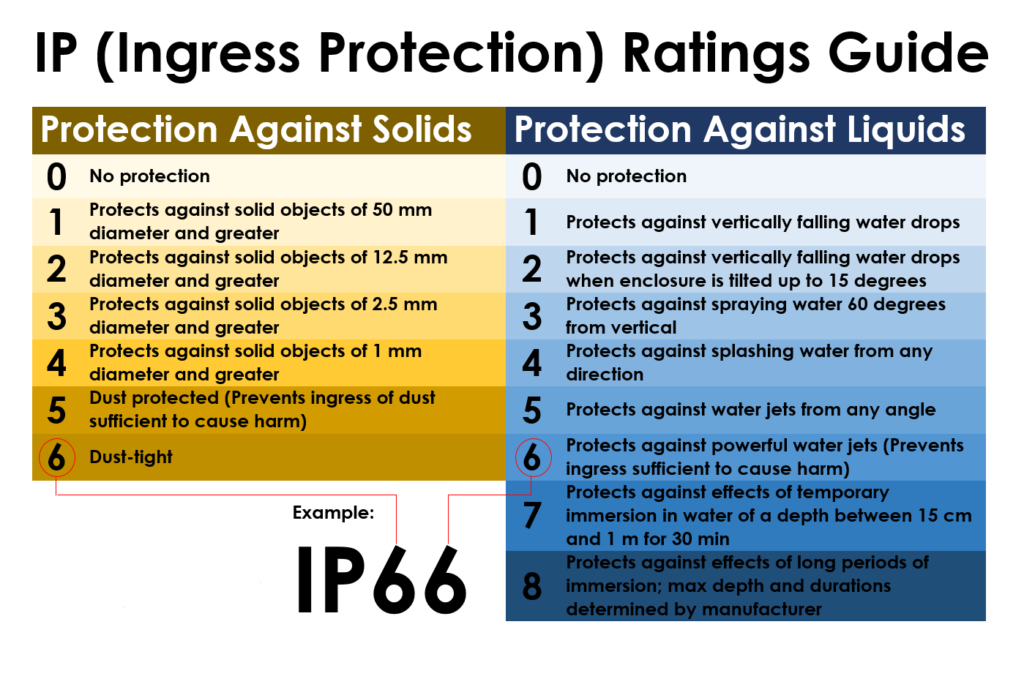 Chapter 3: So, What Are the IP Ratings of ShineLong LED Products?
Now that know something about IP gradings and what the numbers mean, you are probably wondering; what classifications do our LED lighting products fall into? And if that's the case, here is a quick overview of ShineLong's LED lighting IP ratings.
* IP20 rating – Only our Expert LED lights.
* IP40 rating – They include most of our LED Panels; Slice, Smart, Discs, Intact, and K-lens lights.
* IP65 rating – Our LED Tri-Proof lights (Alpha, Parkade, and EcoMini).
* IP68 rating – Gauls LEDs.
* IP69K rating – Our Rancher LED lights.
As you can see, we – at ShineLong LED – are fully committed to manufacturing safe, strong, resilient and high-quality LED lighting fixtures for both industrial and domestic use. The last and most important question to ask is:


Chapter 4: How Do We Test Each Product for Quality and Water Ingress Protection?
Well, there are quite a number of methodologies we employ to test the degree of protection from water penetration;
IP61 to IP69k.
Below is a quick rundown of each process and the steps involved.
Method 1: Vertical Drop Test (Test for IP61 Waterproof Level)
Equipment Used: Drip test apparatus
Test Conditions: A drip volume of 1.0±0.5mm/min
Duration: 10 Minutes
Procedure:
Place the sample on a rotating stage making one rotation per minute.
Also, the sample has to be in its normal working position.
Position the drip at a distance of at most 200mm above the test sample.
Run the test for 10 minutes.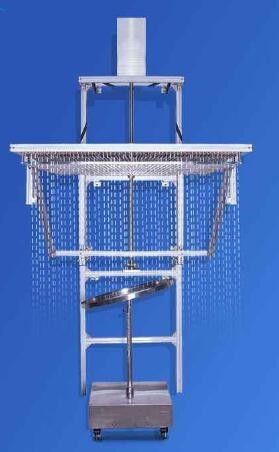 Method 2: Tilted 15° Drip Test (Test for IP62 Waterproof Level)
Equipment Used: Drip test apparatus
Test Conditions: A drip volume of 3.0±0.5 mm/min
Duration: 10 Minutes (4 faces x 2.5 minutes)
Procedure:
Tilt one face of the sample up by 15° vertically.
Place the drip nozzle at most 200mm above the tilted face.
Run the test for 2.5 minutes and the switch the sample face.
Test all four faces of the sample.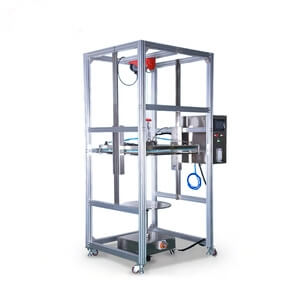 Method 3: Water Splash Test (Test for IP63 Waterproof Level)
There are two ways to successfully carry out an IPX3 test; through a plunge pipe type watering test or a sprinkler test. Here's how to go about both techniques.
a) Plunge Pipe Type Watering Test
Equipment Used: A pendulum tube-type water splash test device
Test Conditions: Each hole on the oscillating tube device pours 0.07 L/min. Therefore, to calculate the flow, you should multiply the rate of each hole by the number of holes on the tube. Spray the water at a 60° arc on both sides of the center of the tube. Place the sample in the middle of a semi-circular tube. The tube oscillates along both sides of the vertical 60° to make 120° in total. Each oscillation is (2×120°) for about 4s
Duration: 10 minutes of continuous watering.
Procedure:
Come up with an appropriate radius for the oscillating tube making sure that the sample's height coincides with the diameter of the oscillating tube.
Thereafter, ensure the distance between the top of the sample and the water outlet does not exceed 200mm.
In this test, the sample table should be stationary (does not rotate).
b) Sprinkler Test
Equipment Used: Hand-held splashing water test device
Test Conditions: Introduce the baffle with a counterweight during the test. Also, ensure the water flow rate is at 10 L/min.
Duration: To determine the time, you should consider the surface area of the sample's shell. Normally, it should be 1 minute per square meter (excluding installation area) with a minimum of 5 minutes.
Procedure:
Place the sample below the hand shower at a distance of between 300mm and 500mm from the nozzle.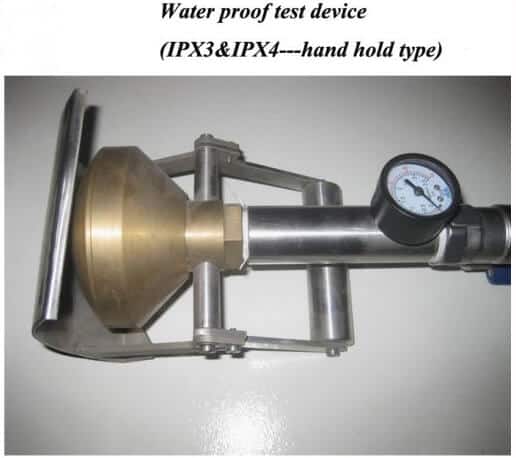 Method 4: Water Shower Test (Test for IP64 Waterproof Level)
Just like the IPX3 test, you can carry out an IPX4 test using the two methods mentioned above. But, there are a few changes that you'll have to make.

a) Pendulum Tube Type Splash Test
In this test, the equipment used and the duration of the test are similar to the ones mentioned above on Test 'a' of IPX3. But, the difference comes in the arc section angle where this test requires a 90° arc section on both sides of the center of the pendulum pipe instead of the 60 degrees used above. Also, the oscillating tube oscillates 180° vertically on both sides totaling to about 360°. And each swing (2×360°) should last about 12s.
b) Sprinkler Test
In this test, the time and equipment used also remain the same as the ones mentioned on Test 'b' of the IPX3 evaluation. Basically, the only difference is that you'll have to remove the baffle with balance weights from the equipment.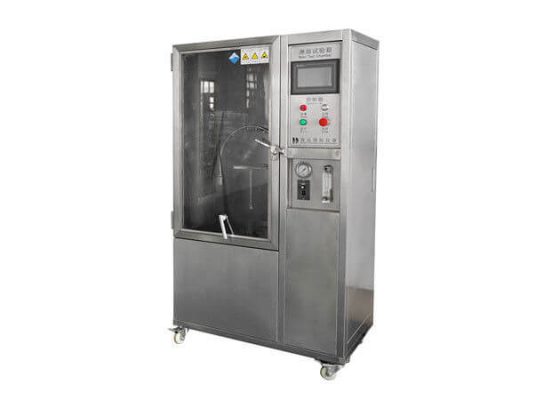 Method 5: Water Spray Test (Test for IP65 Waterproof Level)
Equipment Used: A nozzle with an inner diameter of 6.3mm
Test Conditions: Place the sample 2.5m to 3m away from the nozzle and hit with a steady water flow of 12.5l per minute (750ltrs per hour).
Duration: Use the surface area of the sample being tested to determine the time. Usually, it should be 1 minute per square meter excluding the installation area and for at least 3 minutes.
Method 6: Strong Water Spray Test (Test for IP66 Waterproof Level)
Equipment Used: A spray nozzle with an inner diameter of 12.5 mm
Test Conditions: Place the sample 2.5m to 3m away from the nozzle. Thereafter, splash the water at a flow rate of 100 liters/min or 6000 liters per hour.
Duration: Calculate the surface area of the sample excluding installation area and then pour the water at a rate of 1 min per square meter for at least three minutes.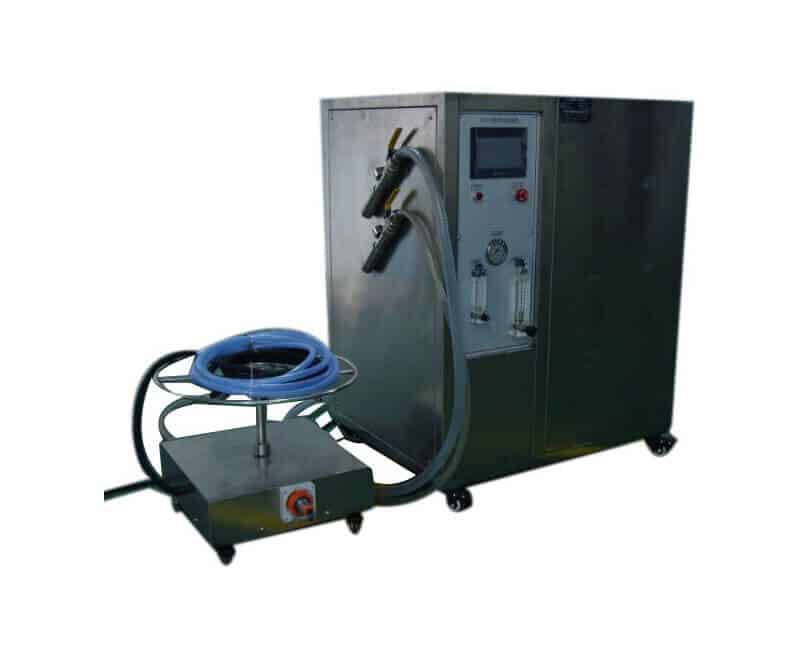 Method 7: Short Term Flooding Test (Test for IP67 Waterproof Level)
Equipment Used: Immersion Tank
Test Conditions: Immerse the sample in the immersion tank to a depth of at least 0.15m and no more than 1m deep.
Duration: 30 Minutes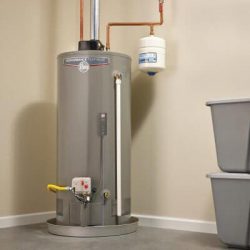 Method 8: Continuous Diving Test (Test for IP68 Waterproof Level)
In this test, the equipment used, test conditions, and the duration are agreed upon between the supplier and buyers. But, the test should be severe than the IPX7 test. Also, note that most outdoor products often insist on floating ability.
Method 9: IP69K Test Conditions and Water Protection Test
Equipment Used: High-pressure Water Gun
Test Conditions: The sample is tested from four different angles – 0 ° – 30 ° – 60 ° – 90 °. The spray distance between the sample and the spray gun ranges from 100m to 150m. Also, the sample is placed on a rotating table making 5 rotations per minute. Lastly, the water should flow at a rate of 14-16 liters per minute; a pressure of 8000-10000kpa; and a temperature of 80 ± 5 °C.
Duration: 30s per direction or angle.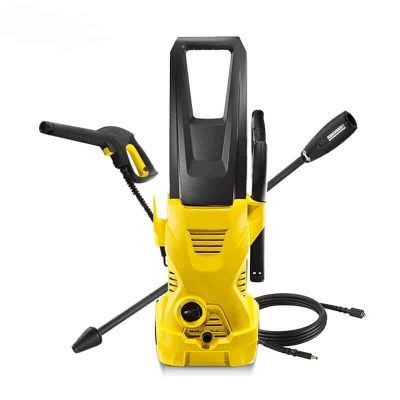 And that concludes everything you need to know about IP ratings and how we use these standards to develop and manufacture superior quality LEDs. When it comes to testing our products for strength and performance, we never take any chances. Everything has to be done right because quality and durability matter to us. Contact us today for a FREE quote and join the millions of people out there enjoying the many benefits of ShineLong LED lighting.