LED Panel Light for Sale: Your Ultimate Buying Guide
So, you're looking for an LED panel light for sale, right?
If so, do you know how to find the best ones?
To some, that's always a tricky question…
Especially if it is their first purchase.
Well:
What do you need to consider when shopping for an LED panel light?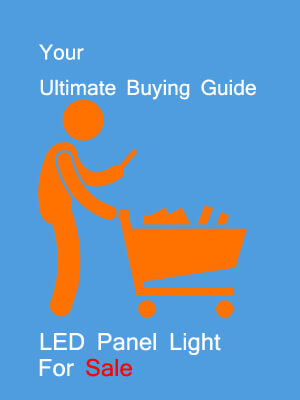 Obviously, you are looking for something that offers you everything you need from a 
light fixture
 including:
Affordability.
Cost-effectiveness.
Efficiency.
Sufficient brightness.
Durability.
Multiple mounting and installation options.
And other applicable features.
Now:
It's a fact.
There are thousands of LED panel products on the market today.
Hence, choosing the best one can be quite a hassle.
However, with the right bits of information and an authoritative guide like this one, your search is bound to be a bit easier.
This post will help you to learn everything you should about LED panels for sale and how to find them.
Without further ado, here are a few important questions you should ask.
Chapter 1: What are LED Panel Lights?
Before you buy LED panel lights, you have to learn the basics first.
Why?
Because it will help you to know exactly what you are looking for.
Now:
LED panels are flat, high-grade, and luxurious indoor lighting fixtures used in so many areas including:
Homes.
Offices.
Schools.
Hospitals.
Libraries.
Hotels and restaurants.
And even exhibition rooms just to mention a few.
The best part is that they come with numerous mounting options.
That simply means that you can easily fit them into any kind of décor or interior styling.
Aside from being very appealing to the eye, these luminaries are high-performance lights that last longer and consume less power.
And that's not all!
They are way more convenient than using grille lights.
No flickering, no switching delays, no heat emissions, and most importantly, no shadows or dark spots. All the conveniences you need from a lighting fixture wrapped into one.
Not forgetting the fact that these fixtures offer soft, bright, comfortable illumination for a long period of time.
Amazing, right?
Therefore, it's understandable why a lot of people are switching to LED panel lights.
Now that you know what an LED panel is, what next?
Well, the next step would be to find out if it offers you great value for your money.
So:
Chapter 2: Is an LED Panel Light for Sale Worth Buying?
Yes!
LED panel lights often come with uncountable benefits.
Not only do they improve your lighting but also cut down your expenses. That means that you'll get to enjoy high-quality lighting for only a fraction of your current costs.
Well: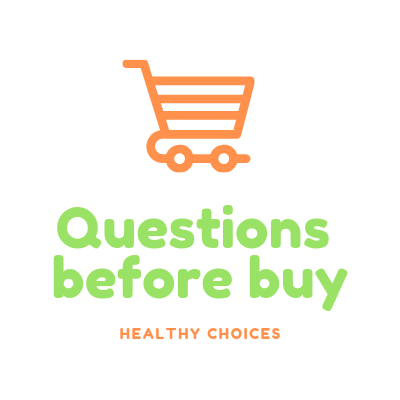 What do you need to consider when shopping for an LED panel light?
Now:
To fully understand how LED panels offer you great value for your money, here are a few benefits you will enjoy: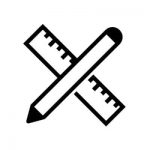 1. Impeccable Designs: Yes, when it comes to finding a chic and beautiful indoor lighting fixture, LED panels are the best. They numerous shapes and designs allow them to seamlessly blend into any type of interior décor. Therefore, you won't have to worry about changing your style.
2. High Illumination: With other lights, you may have to fit in a lot of them into your space in order to get sufficient illumination. However, with an LED panel light, illumination becomes the least of your worries. Basically, LED light panels can yield up to 130 lumens per watt. That means that a few of them can provide better and more than enough illumination.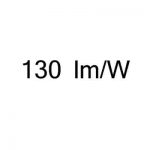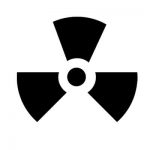 3. No Heating or Radiation: If you have a problem with light fixtures that heat up or emit radiation, then you should consider buying an LED panel light. Why? These panels are designed to have complete heat dissipation. Therefore, your fixtures will not only lower your cooling costs but also last longer than ordinary fluorescents or incandescent lights.
4. Amazingly Durable: Surprisingly, LED panel lights come with up to 100,000 hours of high-quality lighting. That's a +20 year lifespan. Basically, this means that you won't have to spend money on replacing your light fixtures any time soon. Fantastic, right?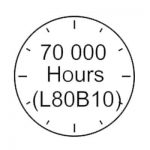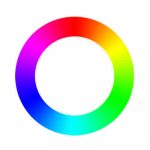 5. Adjustable Light Colors: Another awesome perk about LED panels is that you can adjust the color temperature of the light to suit your needs. Whether you are looking for a cool, normal, or warm shade, these lights offer you all of them.
6. Strong Materials: Yes. LED panels are made from some of the best materials. Therefore, they can comfortably withstand intense vibrations and won't get damaged that easily.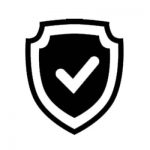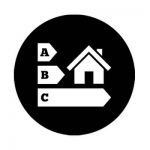 7. Very Energy-Efficient: Have you been spending fortunes just to keep your space lit? If so, that's about to change. Energy efficiency is one of the main reasons why LED lights keep on gaining popularity. With LED panels, you may experience up to an 80% reduction in lighting expenses. Awesome, right?
That being said, LED panels use green lighting technologies.
Which means they are very kind to the environment.
So, you won't have to worry about environmental pollution.
Since these luminaries are made from recyclable materials, they can be repurposed when they outlive their usefulness.
Chapter 3: Which are the Most Important Components in an LED Panel Light for Sale?
Obviously, LED panel lights are made up of so many components…
Each serving an important role.
Now:
When checking to see whether an LED panel light fixture is as good as advertised, you should look at a few things including:
1. The Frame of LED Panel Lights for sale
It should be aluminum. This frame is important because it helps with the aesthetics. Basically, it has a beautiful, smooth appearance that makes the light fixture worthy of any type of décor. Moreover, an aluminum frame helps in complete heat dissipation.
2. The Light Source of LED Panel Lights for sale
LED panel lights come with different light sources; 2835, 3014, and 5050. Out of the three, 2835 is the best. That's because it offers you high-point versatility making it easier to design guide dots.
3. The Light Guide Plate of LED Panel Lights for sale
Light guide plates often help to provide evenly distributed illumination. That way the fixture won't have any dark spots or shadows.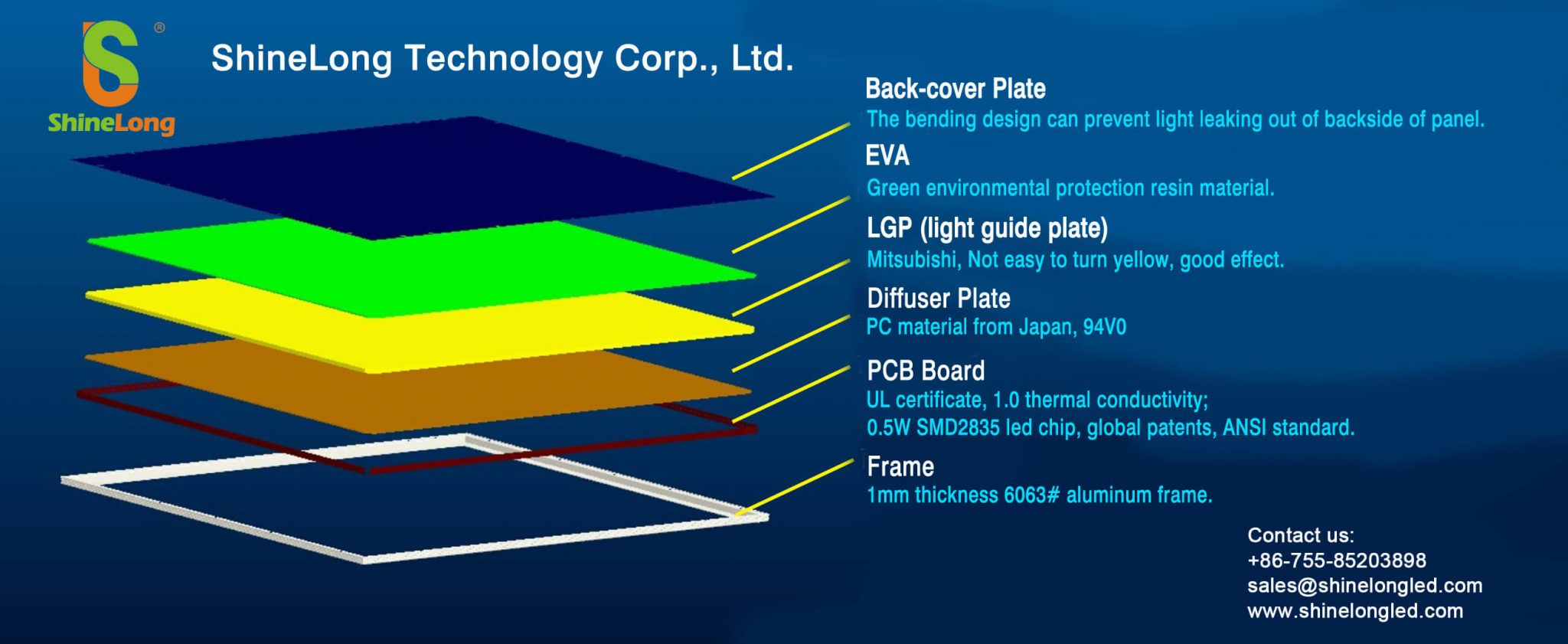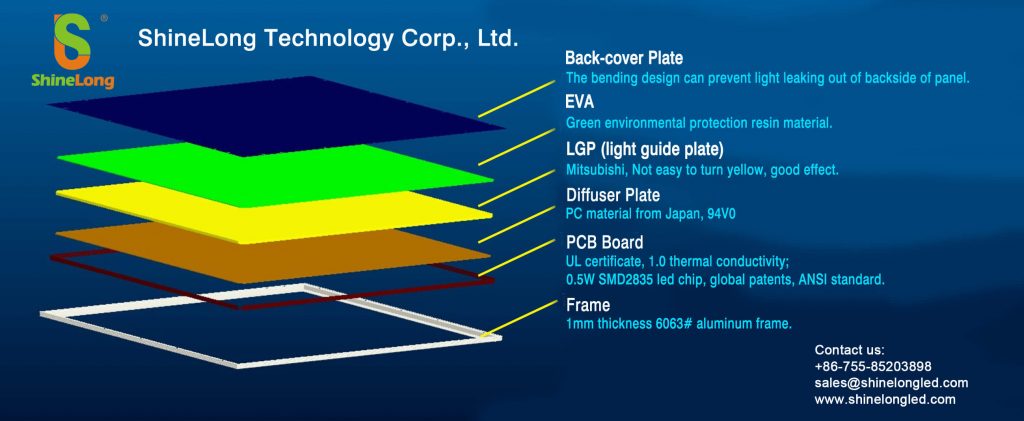 4. The Diffuser of LED Panel Light for Sale
The best LED light diffusers – so far – are Acrylic 2.0 sheet or a PC material. Funny enough, these two often seem to make up for the other's shortcomings. For example, Acrylic is cheaper because it has a weak anti-aging performance. However, it has a 92% light transmittance rate.
On the other hand, PCs have a better anti-aging performance, but their light transmittance is 88% and are a bit expensive. Depending on your needs, you'll know which diffuser is the best for you.
5. The Reflective Paper of LED Panel Light for Sale
The main purpose of the reflective paper is to redirect the residual light on the back of the light guide. That way the fixture can direct more light towards a specific direction or angle. And that helps to improve the fixture's efficiency.
6. The Rear Cover of LED Panel Light for Sale
Aside from contributing to heat dissipation, the rear cover also protects the internal parts of the LED panel fixture. Therefore, you should make sure it's made from the best materials e.g. 1060 aluminum.
These are just a few of the most important components of an LED light panel for sale. Finding a fixture that has the best of these components means finding the best panels on the market.
Moving on:
You may also be asking…
Chapter 4: How Can I Fit LED Panels into My Décor?
Well, it's easy.
Installation of LED panel lights can be done by anyone – given that they have the right tools and an installation manual.
Moreover, when it comes to mounting options, you'll be amazed at how much you can do with these lights.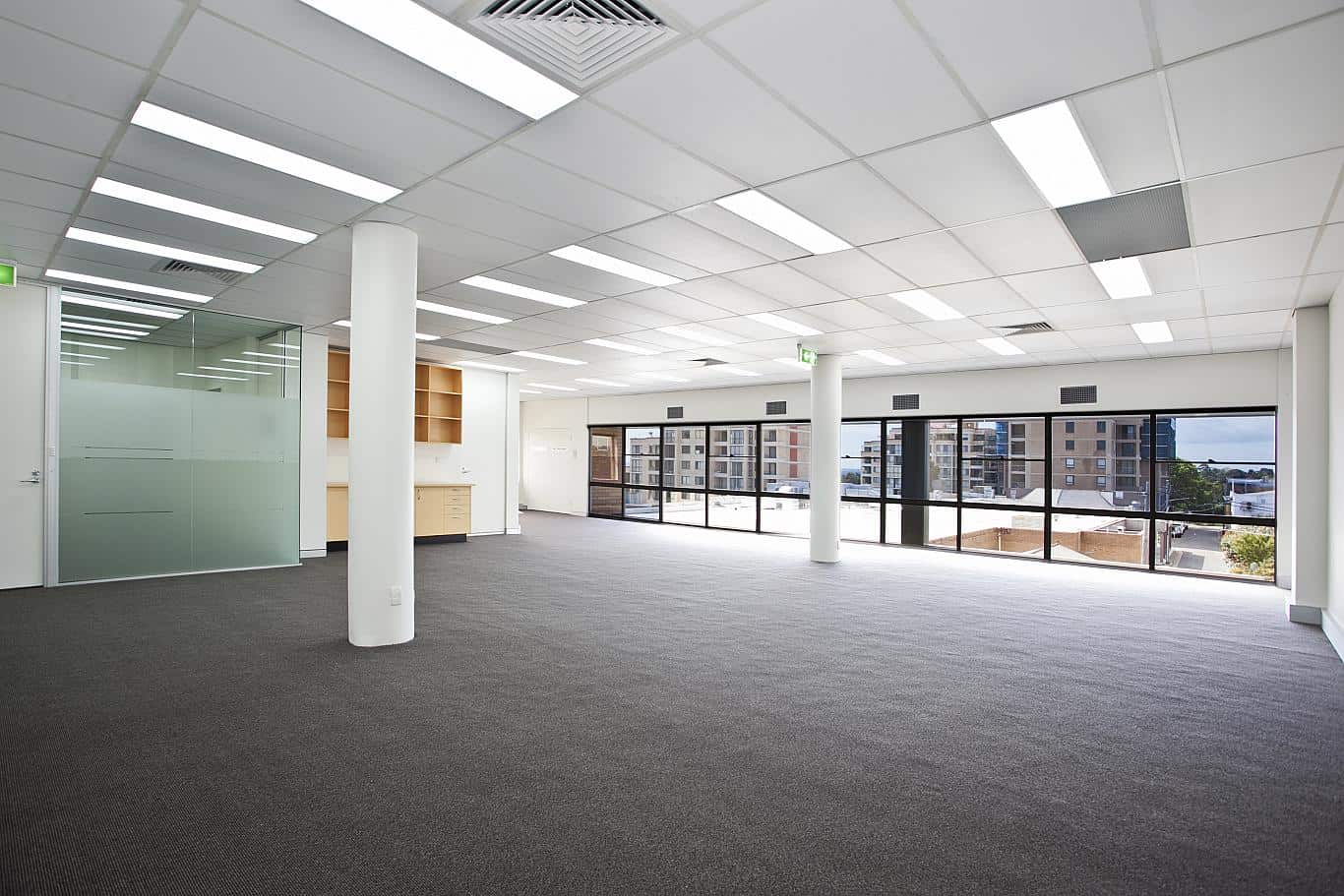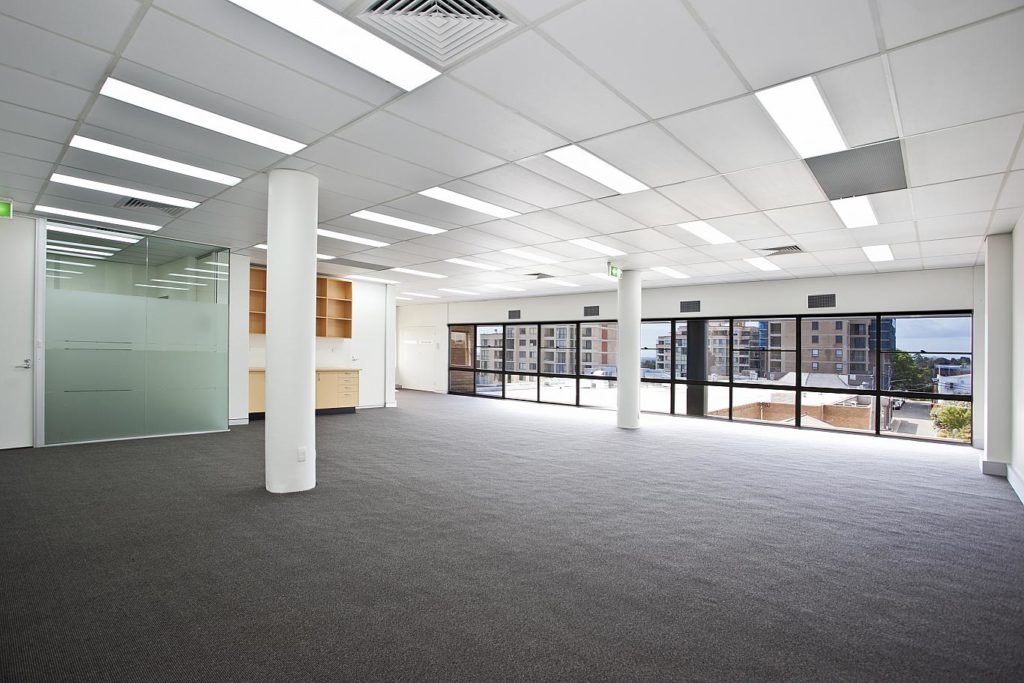 For example:
LED panel lights can be mounted on the surface, walls, and ceilings of places.
And if your décor is predominantly white, you'll have no trouble fitting LED panel lights into it.
And that's not the best part, yet.
You can use these fixtures to complement works of art too.
Chapter 5: How Much Do these Fixtures Cost?
After all the explanations above, there's still one question that should be bugging you.
How much will an LED panel light for sale cost you?
Knowing the average led panel light price can be a huge contributor to smart decision making.
Now:
Obviously, you want to find the best panel lighting fixtures but at the lowest price possible.
And that's why comparing a few panel LED lights prices is always a good idea.
So, on average, you should expect to spend between $30 (210 Yuan) and $45 (300 Yuan) per unit. The pricing difference depends on the quality of materials you prefer.
Clearly, the best materials will lean towards the more expensive side.
However, if you take a minute to consider the perks of owning LED panel lights, you'll realize that they offer you great value for your money in the long run.
Chapter 6: Where Can You Find The Best LED Panel Light For Sale?
Generally, there are so many manufacturers out there today.
However, only one stands out as the best due to its high-quality products and impressive client services. And that LED manufacturer is ShineLong Technologies Corp.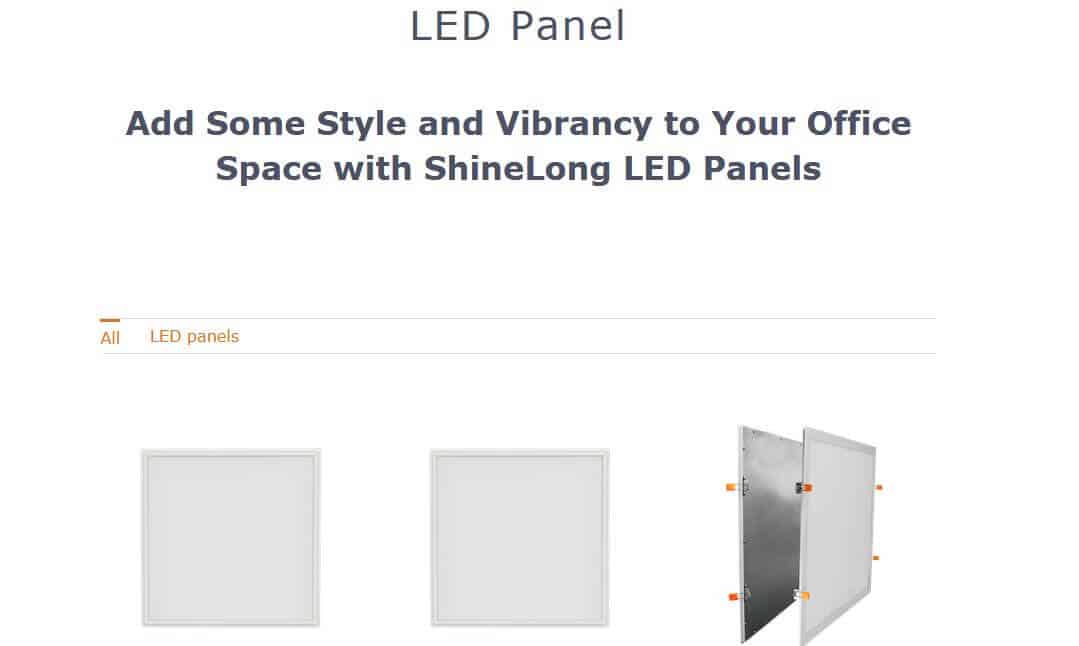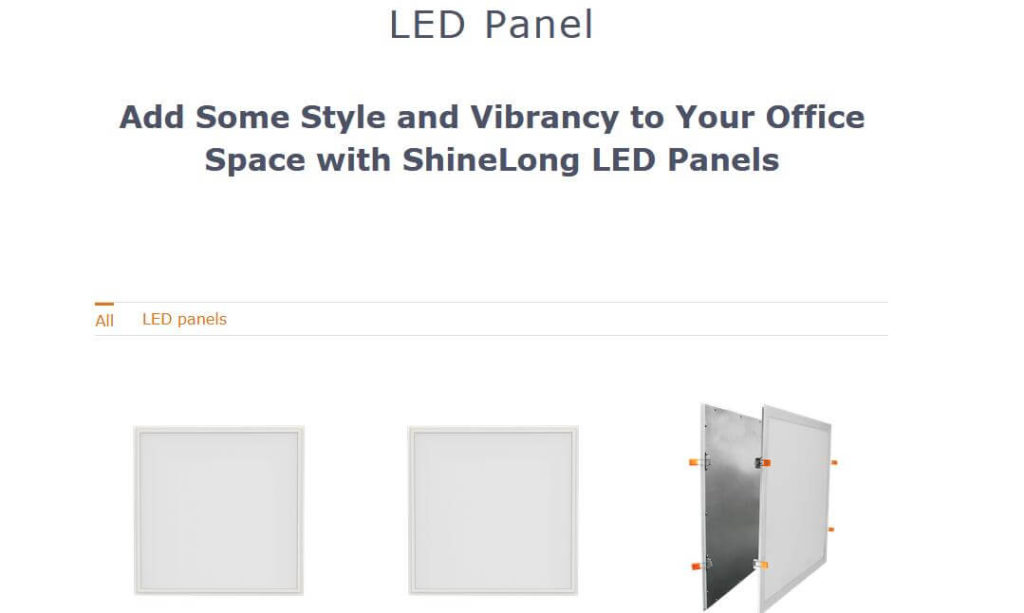 Why?
We've got a wide range of LED panel light products for you to choose from. All of which have been tailored to offer you durable, high-performance, energy efficient, and proper illumination.
So, with all that said and done, do you have any questions about LED panel light for sale? If so, post it on the comments section below and we'll be more than happy to answer them. Just remember, if you are going to pay for an LED panel, make sure it's the best; make sure it's a ShineLong panel LED.