What Do You Need To Keep In Mind When Buying LED Lights?
It is often assumed that buying LED lights in bulk is an easy process…
But, is it true?
Not really!
Several factors often come into play as far as LED fixture purchases are concerned.
Basically, LED lights have been gaining popularity due to their numerous benefits including:
The fact that LEDs last impressively longer than any other kind of lighting technology.
They save up to 80% of cost and power consumption.
They are easy to control.
LEDs offer brighter and better lighting.
They are robust and not easily damaged and so on.
That's why it's easily understandable why most of us have considered – or are in the process of – switching to LED lighting fixtures.
Now, even though LED prices have dropped drastically over the years, switching to these fixtures can still be a costly affair.
Which is why you have to do it right…
But, you may be wondering:
How?
If so, you are in the right place.
This post is all about the "DOs" and "DON'Ts" when buying LED Lights.
After reading through it you'll have a clue on what you need to do to ensure you make a wise and stress-free LED lights purchase.
So, without further ado, let's get down to juicy tit-bits.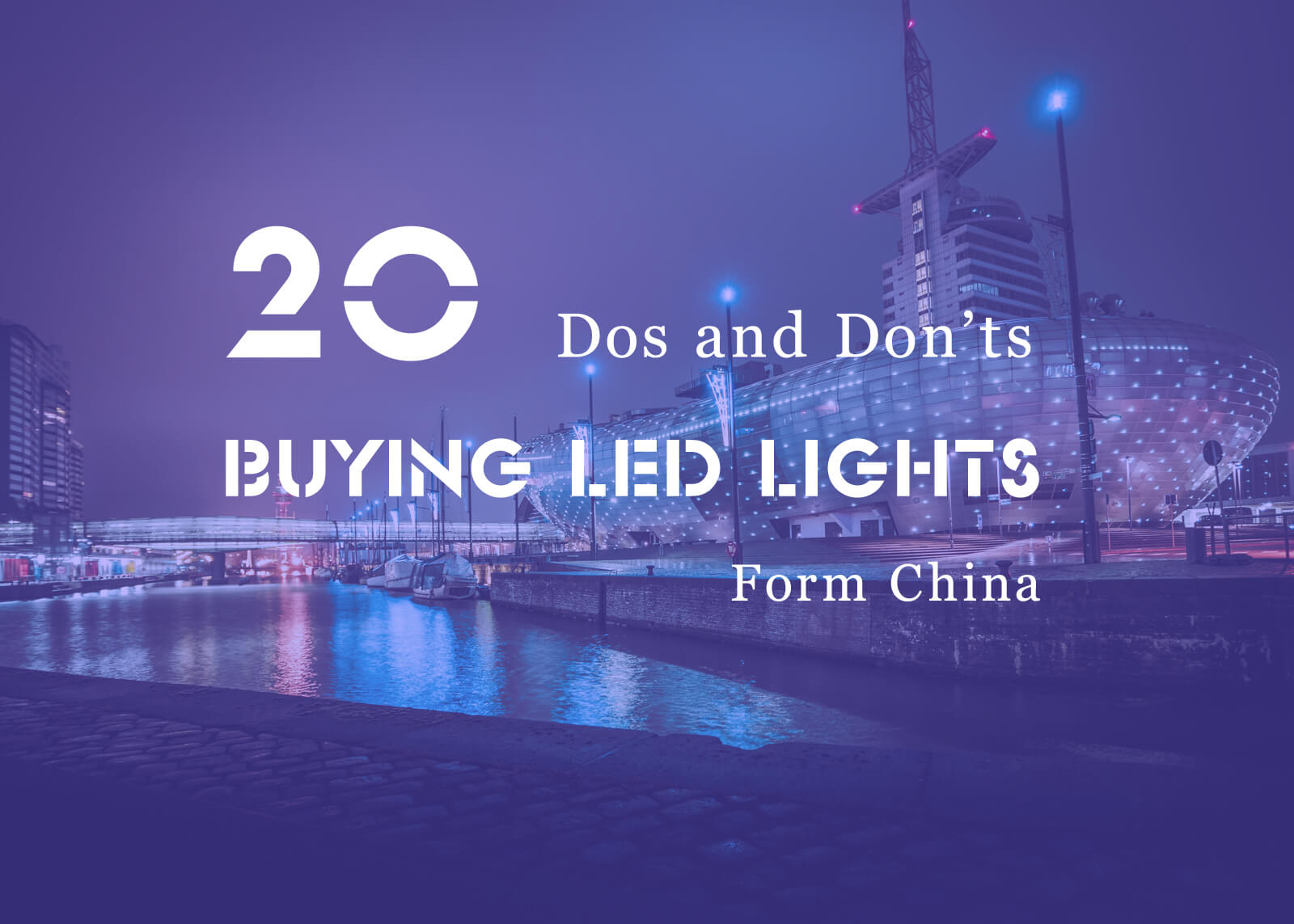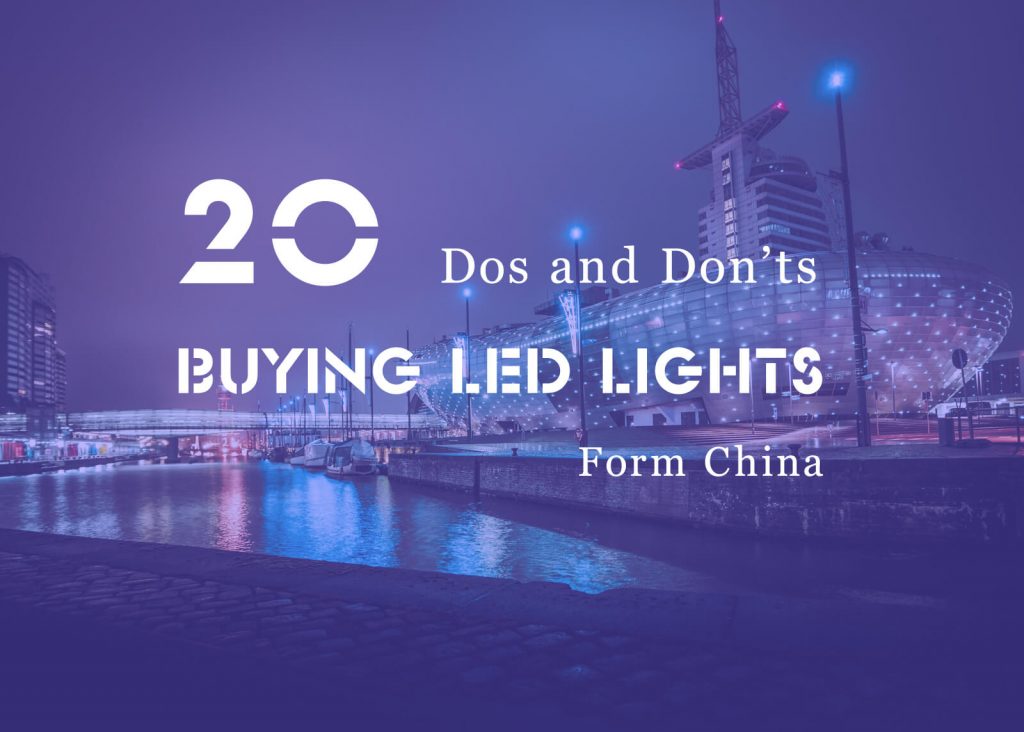 10 Things To Do When Buying LED Lights from China
The main question being answered here is; how can you make wise LED lights purchases from China?
We can phrase the best answer to that question in three simple words…
Having all the right information is the only way to do things right. The information helps you to scrutinize, plan, and decide on the best LED light fixtures for your space.
And:
To get the right information, there are a few things you need to DO.
Here is a checklist of ten important things you should do when shopping for LED lights:
1. Consider the Shape, Size, and Design of Your Intended Space
Here, you need to ask yourself a few questions including:
How big/small is the space you want to fit with LED lights?
Do you want to light up the whole room or just parts of it?
Is the new lighting meant to blend in with the design/décor or not?
How much light do you need in that space?
Obviously, large rooms need more light fixtures than small ones. Also, if you don't intend on lighting all parts of the room, there won't be a need to buy many LED lights.
The design is also a very important factor to consider. The LEDs you procure should be easy to blend in with your décor.
For example:
An LED panel would be the best light for an office or library as compared to an LED floodlight.
So, before you go buying LED lights from China, you need to ensure you evaluate the lighting needs of the space in question.
Of course, if you are buying these LEDs to sell, this may not necessarily apply to you.
But:
It's still good advice you can offer your clients when they come looking for the perfect LEDs for their space.
2. Consider the Purpose of the LED Light in Mind
Let's face it:
Not all LEDs are built or designed to work best in any environment.
In fact, the best LED light for your warehouse may not be the best one for your carwash.
Basically, what this means is that you have to find fixtures that are designed for your space.
For Example:
LED Parkadeswork best in car parks.
LED Ranchersare suitable for use in barns and poultry sheds.
Floodlightswork better outdoors.
LED Panelshave a way of improving the aesthetics of an office, library, and exhibition.
LED Gauls are designed to withstand the humid environment of a food processing factory.
And so on…
** Get all these LED products and more only from ShineLong LED Light Company
Anyway, you get the point…
You need to stay true to the purpose of the LED lights you want to buy.
That way, you'll get the best value for your money while at the same time ensuring that your fixtures will work seamlessly in your space.
3. Find the Best LED Lights Manufacturer
This one's a no brainer…
To get the best LED lights, you have to look for the best manufacturer, wouldn't you agree?
That's why, when buying LED lights, you have to put some considerations on the options you have (in terms of manufacturers).
The fact is:
Finding a good, reputable manufacturer not only guarantees the quality of the LED light fixtures but also ensure you have a smooth, stress-free purchase.
Plus, you get to enjoy more incentives in the process.
Now:
There are hundreds of LED light manufacturers in China today. Therefore finding the best ones can be an uphill task.
However, you can use some things to narrow your search including:
Using referrals from friends and fellow business owners.
Looking at the manufacturers' products' ratings and reviews on retail sites like Amazon.
Going through client reviews about the manufacturer. Many happy clients mean better products and services from the manufacturer.
Asking about the company's after-sale services, warranty policies and so on.
In a nutshell:
A good manufacturer will always put your needs and best interest at heart. Therefore, look for manufacturers that exhibit this quality.
4. Make a Few Price Comparisons
By now:
You probably have a list of around three to five potential manufacturers. The ones that can be deemed as the top LED light manufacturers in the industry.
The next step would be to compare the prices of the products they have to offer.
However, you should note that pricing can be a bit tricky.
Why is that?
Well, pricing is important but it can also be misleading at times.
Basically, you need to bear these two facts in mind:
Steep prices do not guarantee superior quality.
Cheap prices do not imply inferior qualities.
Therefore, as you make any price comparisons, make sure you examine the fixtures' quality too.
Remember, you want LED lights that are not only affordable but also of high-quality so that you get more value for your money.
Once you find a manufacturer that offers you high-quality and affordable fixtures, you'll be one step closer to making a smooth purchase.
5. Do a Deep Dive into the Profile of Your Preferred LED Lights Manufacturer
Once you've gone through many manufacturers and finally found one that seems like the right fit, it's always wise to dig deeper.
Get to learn about the manufacturer's policies on shipping, order processing, returns, and so on.
Note that:
You are looking for a manufacturer you can work with better. That's why you'll need to look at their profile and track record.
Make sure they are invested in seeing you excel as a client.
How?
Well, you can do that by:
Calling them to see how they respond to your questions.
Asking as many questions as you can (a good manufacturer will make time to listen to your issues).
Reading reviews and ratings left by the manufacturer's current clients.
Checking to see how their products are performing on online retails sites.
Once you get all this information, it will be easier for you to paint a clearer picture of the kind of company you are dealing with.
6. Go through Their Warranty Policies
A warranty is important because it shields you from unnecessary losses due to faulty fixtures.
Which is why it is a vital factor to consider.
Find out what you can about the manufacturer's warranty policy including:
How long it's valid?
What it covers?
How to claim the warranty in case a fixture stops working prematurely?
Things that may render your warranty null.
Basically, your warranty is your insurance policy in case of unprecedented damages or lighting failures. Therefore, you need to be very keen on it.
Also, longer warranties are often a sign of the manufacturer's confidence in the durability and performance of their LED fixture.
Hence, you should look for manufacturers that offer lengthy warranties on their LED products.
Now:
Before you go buying LED lights in bulk, you should first ask for a test sample from your manufacturer.
That way you get a first-hand feel and look at what you are buying.
When you look at and test an LED light fixture, it will be easy for you to decide whether it's the best fit for its intended use.
What's more?
Normally, manufacturers will supply you with video clips of their testing processes.
And while it may seem like enough proof, it's always wise to do it yourself just to be sure.
8. Ship LED Light Fixtures from China
Why China?
That's probably a question running through your mind right now…
And yes it's only natural to ask what makes China so special when buying LED lights.
Now:
China is a favorable LED light market for many reasons including:
The fact that it is the world's biggest LED light producer and supplier. China has hundreds – if not thousands – of LED light fixture manufacturers.
The fact that China's LED light industry is massive means that there's a lot of competition and hence more competitive prices on their LED light products.
Also, China's massive industry means that you have a wide range of options to choose from. And most Chinese manufacturers offer customization services too.
Next-generation technology light products. China is also well-known to rapidly come up with innovative LED designs and features than other parts of the world.
Also, China has sufficient manpower. Which means order processing and shipping is faster than in other countries.
9. Stay Up-to-Date with Government and Shipping Policies
Yes!
You should not forget about government and shipping policies.
Why?
Well, any changes to these policies can adversely affect your purchase.
For example;
If one of the governments (yours or China's) decides to increase taxes or even bans importing/exporting of specific goods from/to your country, you may end up incurring extra expenses or even experiencing delays on the delivery of your LED lights.
That's why you need to be up-to-speed with all changes or shifts in government and shipping policies.
Therefore, in case there's a change in policy, you'll have enough time to act to protect yourself financially or your investment.
10. Leave a Rating or Review about Your Experience
It may not sound like much, but writing a review of the manufacturer and your overall experience is also important.
Why?
Well, sooner or later, someone else will be in your shoes trying to figure out how to buy LED lights from China.
Therefore, the information you share about your experience can help them to make a much-informed decision. Just the same way you'll have to rely on reviews from other clients.
Get it?
Well, it's a wrap on the "DOs."
Next, let's look at a few common mistakes to avoid when buying LED lights…
10 Things To Do When Buying LED Lights from China
Now that you know what to do when buying LED lights, it is time to know what to avoid doing.
We can all agree that mistakes can be costly especially when dealing with a bulk order.
And I'm sure you don't want any mistakes, right?
If so, here are 10 common mistakes that you should avoid when buying LED lights from China:
11. Failing to Check for Incentives
For quite a while now, there have been a lot of incentives to encourage people to switch to LED lighting.
Sadly, very few people know about these incentives. 
Most of them are often offered by governments as a way of promoting the migration from incandescent lights to the much greener LED alternatives.
Now:
Why are incentives that important?
Well, they can:
Lower your purchasing costs through subsidized prices.  
Lower your tax obligations when importing LED lights from China.
Make it easier for you to divert more funds to buy more LED lights.
Also, due to the reduced purchasing price, it becomes easier for you to offer your customers discounts and offers.
So, yes – incentives are vital when it comes to importing LED light fixtures.
Note that:
Your manufacturer may not be aware of the incentives in your country. This is why you need to keep a close eye on your government's policies and incentives.
It could save you a lot of money.
12. Replacing Your Incandescent Lights with LEDs that Have the Same Wattage
Don't get me wrong.
I'm not saying it is a bad move.
But:
I do feel like it beats the purpose of switching to LED lights in the first place.
Basically, LED fixtures are designed to offer more light even when they consume less energy.
Therefore, you should look for an LED light that offers you sufficient lighting while ate the same time consumes less energy than the incandescent bulbs you're replacing.
13. Buying LED Fixtures without Additional Tools
Unlike incandescent bulbs, some LEDs require extra tools during installation.
Failing to get these tools may leave you with fixtures you can install.
You don't want that, do you?
For example:
Some LED light fixtures require ballasts (specialized power converters) to function properly.
Without the necessary tools, you may not be able to set up such an LED light.
So:
Therefore, ensure you pay close attention to the needs of your fixtures when buying LED lights.
If they are not meant to be connected directly to the AC socket, make sure you procure the right tools for installation purposes.
And in case you don't know how to do it yourself, consider hiring an electrician for that job. It minimizes the risks of unintentional damages.
14. Failing to Check the Fixture's Power Supply Rating
Yes!
It's a fact that not all LED fixtures have the same power rating.
The most common rating is usually 230V – 50Hz on the mains supply.
However, the rating may differ depending on the intended use of the light fixture and its wattage.
Therefore, you have to make sure you receive fixtures with the right power rating.
If by any chance, the manufacturer sends you fixtures with the wrong power rating, don't install them.
Instead, contact the manufacturer so that they can offer a way forward. It could be:
To return the fixtures to the manufacturer so that they can change and send you the right ones (it may be a bit costly).
To change the power supply in your space to accommodate the new fixtures' power ratings.
Using LED lights with the wrong power rating could lead to premature burn-outs, poor-performance, or bad light quality.
15. Failing to Consider Your Color Preferences
One of the biggest benefits of using LED lights is that they offer you a myriad of color options to choose from. 
Also, there are special environments that often require specific light colors for smooth running.
Therefore, depending on the intended use, you must look for LEDs that are designed to emit the color your space needs.
Using the wrong color not only affects your room's décor but also can cause damages to your business project.
16. Failing to Make Considerations about the CRI of the LED Fixture
First of all:
What is CRI?
CRI stands for Color Rendering Index. It is the measure of how well colors are perceived by an LED light.
CRI often ranges from 0 to 100. The higher the value, the clearer the color perception.
So, why is CRI so important?
Well, seeing as there are places that use colors to pass information, the color perception in such a place must be higher.
Especially in factories or places that utilize heavy machinery. That way accidents and wrong actions can be avoided.
Unfortunately, LED fixture prices tend to rise as the CRI value goes up. Which is why you may be tempted to go for fixtures that have lower CRIs.
Doing so may inconvenience you in a number of ways including:
Accidents at work.
Transmission of incorrect information in places that pass color-coded information.  
Deteriorating aesthetics.
And so on.
Basically, you cannot use LEDs with low CRI in places filled with colors including art exhibitions, museums, hotels, heavy machinery plants and so on.
17. Using the Wrong Dimming Device
You should also understand that not all dimmers work well with LED devices.
Therefore, you need to ensure that you buy LED lights together with dimmers designed for them.
By doing that, you'll have reduced the chances of damaging your fixtures and saved yourself the costs and inconveniences that would have followed.
18. Forgetting to Check the UGR of the LED Fixtures
UGR or Unified Glare Rating is basically a calculation of the glare produced by LED lights. It ranges from 5 to 40.
Glare is often responsible for the fatigue and eye discomfort we sometimes feel.
That's why, when buying LED lights, you have to also make sure that the UGR is lowdec to create a comfortable working/living space.
19. Failing to do Proper Estimations
In most cases, buyers often assume that they can just replace each of their incandescent bulbs with an LED fixture.
But:
What most of them forget to consider is that LEDs usually shine brighter. Therefore, you may not need as many LEDs as there were incandescent lights.
Doing so not only saves you costs but also helps you to decongest your lighting system.
20. Not Doing Proper Research
Regardless of how easy it may seem, buying LED lights from China is a process that requires a lot of research.
It's the information you gather that helps you to make wise and cost-effective purchasing decisions.
Basically, failure to do your research may hurt you more than you know it.
Therefore, make it a point of learning as much as you can about your manufacturer, the LED industry, your options, and current policies in order to shield yourself from bad purchasing experiences and loss.
There you have it.
20 hot tips to consider when importing lights or, in other words, the DOs and DON'Ts of buying LED lights from China.
The main point to keep in mind is Research. Without it, you won't have enough information to make an informed decision.
If you have any questions about this topic, feel free to leave a comment below or you can also check out our LED lights FAQ page.
Also, we'd love to hear from you. Post your ideas, additional points, and even corrections down below in the comments section.